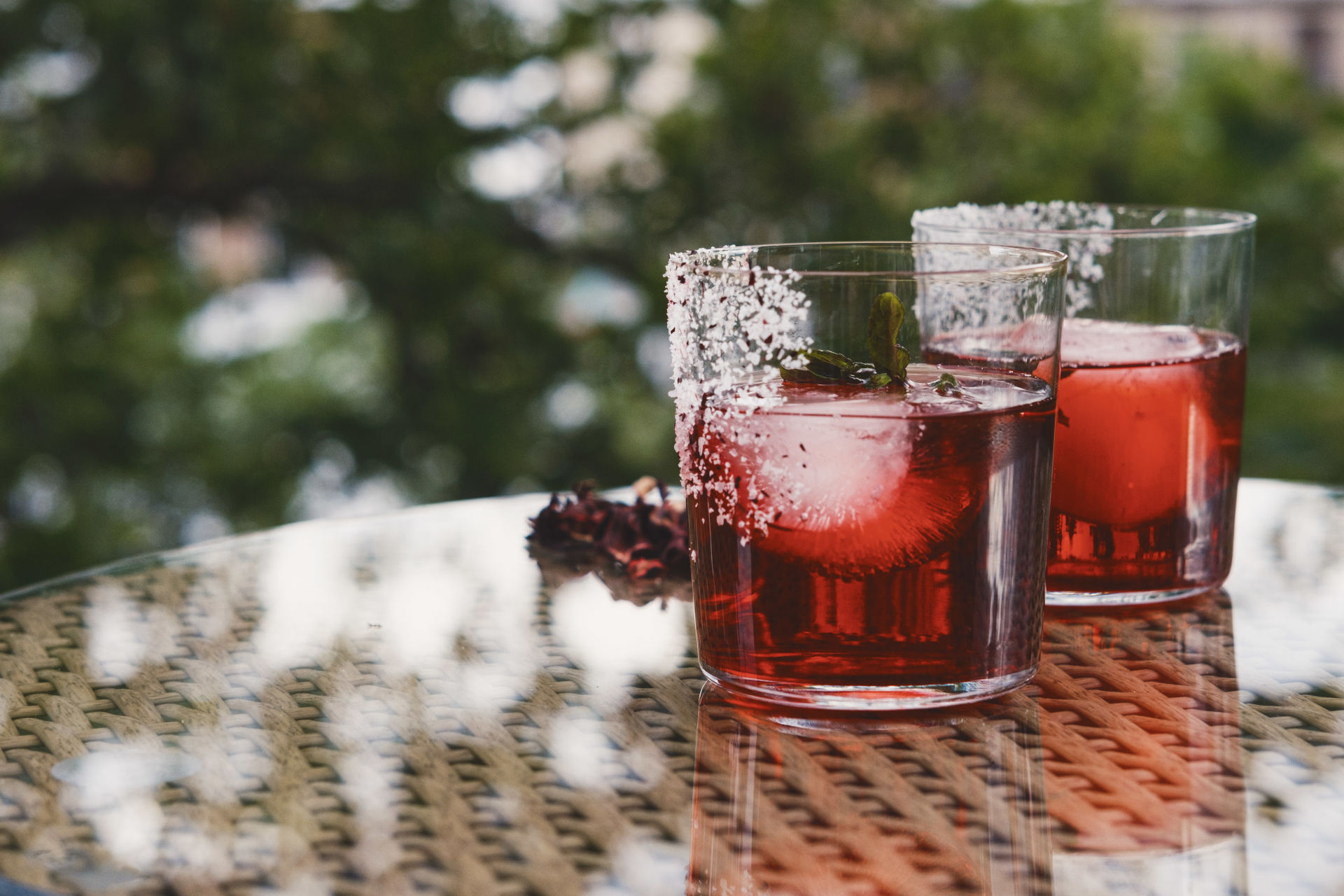 Eat More Plants: Recipes
Late Bloomer Cocktail
By Tessa Liebman
Sign up for our monthly newsletter!
You are going to love the drink Late Bloomer. "Night blooming, dark horse, dog day's delight—Late Bloomer" is its full name. It's a drink designed to complement any steamy summer day or evening and make it perfect. You'll forget the mosquitoes.
This can easily be made without the addition of alcohol or sweetener if that's not for you. See variations in Directions. Hibiscus flowers are full of antioxidants and vitamin C and are said to lower blood pressure and open the heart. They are popular in many parts of the world and are known as Jamaica in Mexico, Sorrel in the Caribbean, and Karkadé in North Africa. Jasmine flowers may be more difficult to find dried and not mixed into green tea. They will not make or break this recipe; the orange flower water in the syrup also adds a lovely floral touch. This recipe is meant to make a large pitcher for late summer gatherings.
Ingredients:
For the tea:
8 cups of water
1 cup dried hibiscus flowers (or about 10 hibiscus tea bags)
3 Tablespoons dried jasmine flowers (most jasmine tea has other, caffeinated tea added so do not use tea bags if whole, dried flowers are not available)
For the Syrup:
1 cup water
1 cup granulated sugar
1/2 teaspoon orange flower water
8 oz. Botanical Gin—I like Ethereal Gin from Berkshire Mountain Distillers
Directions:
Make the tea:
Bring half of the water to a boil. Stir in the dried hibiscus and jasmine flowers, turn off the water and cover to steep. After ten minutes, strain the flowers through a fine mesh strainer and add the remaining 4 cups of water. Stir and allow tea to cool a bit before cooling in the fridge. If you like you can pull out the hibiscus flowers after straining—toss the jasmine buds—and give hibiscus a light rinse, sometimes they can feel sandy to the touch. These rehydrated flowers can be chopped and pressed into cheese to make cheesy, tart quesadillas.
Make the syrup:
Put 1 cup water and 1 cup sugar in a small saucepan. Bring to a boil and boil for a few minutes. In about 8 minutes, you will start to see the liquid tighten and the bubbles will appear bigger and a bit slower. Turn the heat off and cool the liquid. When cool, stir in the orange flower water and refrigerate.
To serve the cocktail:
Prepare a large pitcher with the chilled tea mixture, add the gin, if desired, and sweeten to taste with the syrup. This can be done individually or in the pitcher. For an 8 oz. cocktail about 2 oz. of gin is a standard amount. For a salted rim, like in the photo, crush a hibiscus flower with coarse salt in a mortar and pestle, spice/coffee grinder, or under a heavy flat-bottomed pot. Moisten the rim with a slice of citrus fruit or a damp paper towel and roll in the salt. It can then be garnished with herbs, edible flowers, citrus slices, etc.
Tessa Liebman is a Brooklyn chef and sensory provocateur. You can follow Tessa @tessitanyc and @scentsofplates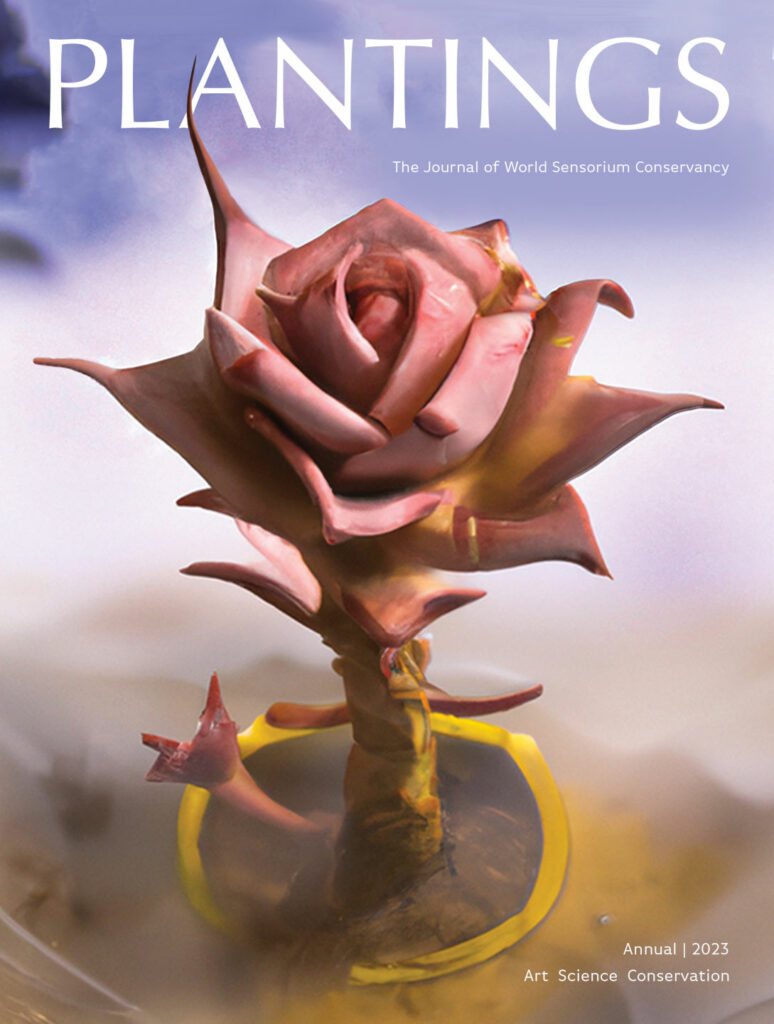 Plantings Print Annual 2023
Have you been looking forward to the 2023 Plantings print annual?
What do you like best about Plantings, the ideas and substance of the articles, the inspiring interviews, the beautiful photography, the creative charge to live sustainably? It's all available again in print for purchase in our store. The 2023 Plantings will available for shipping in April. Purchases in March are a special price of $20.00, after that it will be $22.00 shipped domestic.