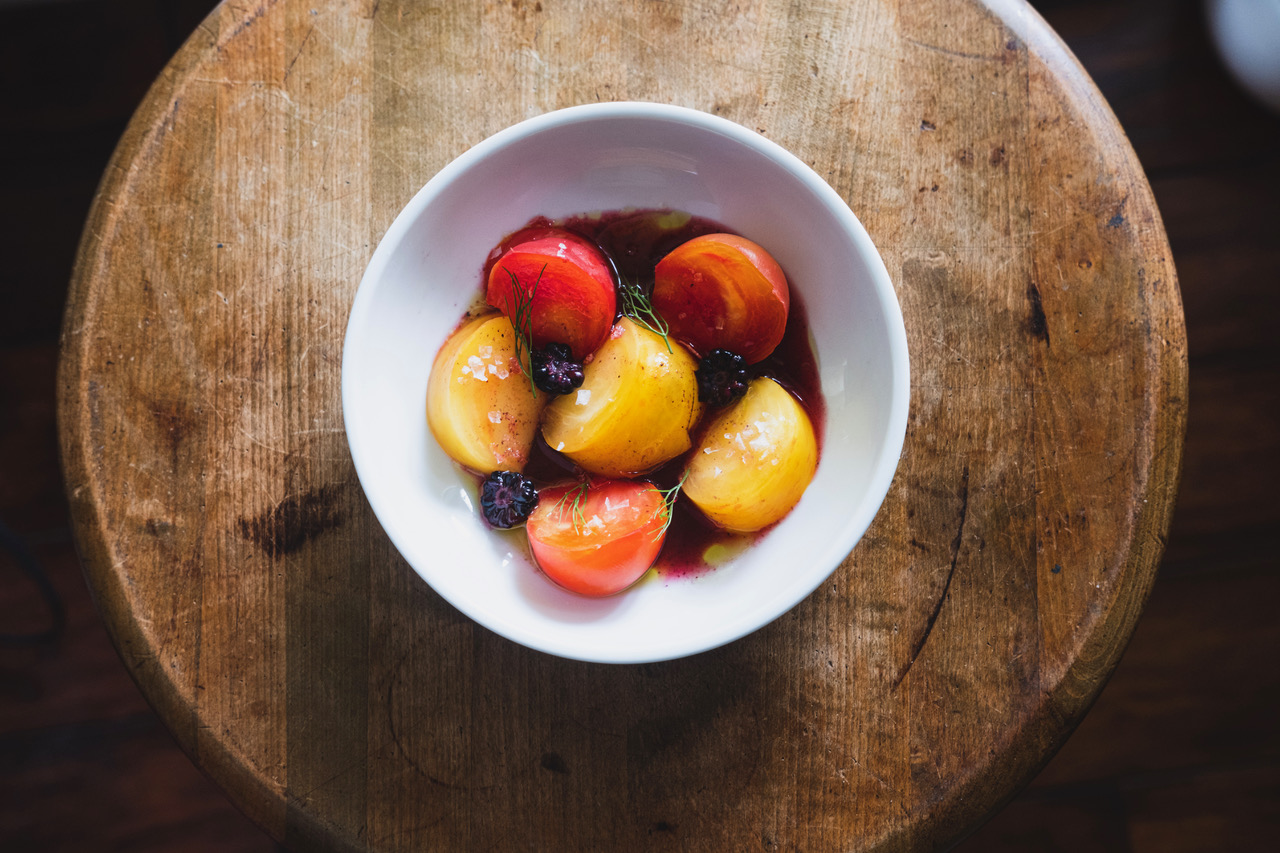 Eat More Plants: Recipes
Heirloom Tomato with Fermented Blackberries and Roasted Kale Stem Oil
By Tessa Liebman
Sign up for our monthly newsletter!
These 3 ingredients each have tons of flavor and use fun techniques. The berries and kale stem oil can be used in several ways. This combo was something I brought to a friend's house for a dinner, and it was a hit. It is great served with crusty toasted sourdough bread or as little crostini for canapés.
Ingredients:
Heirloom tomatoes (whatever mix you like; sizes, shapes, colors…)
Fermented blackberries
Roasted kale stem oil
Maldon salt or similar flaky salt to finish the dish
Optional herbs (I used fennel fronds because I had some)
For the Fermented Blackberries:
2 cups of fresh, washed blackberries
2 Tablespoons honey (you can use raw sugar for a vegan option)
2 Tablespoons whey collected from draining cultured coconut yogurt over a strainer for a few hours
1/4 teaspoon sea salt
Filtered water
Preparation:
Wash berries and pack into a wide mouthed glass pint jar. Squish them down with a fist or wooden spoon (avoid metal utensils when making ferments)
Mix sweetener (honey, sugar or other), salt, whey and a couple of tablespoons of water in a small bowl
Pour the liquid mix over the berries and make sure that as you pour slowly all the little spaces in between berries get covered in liquid. If there is space at the top add a bit more filtered water but leave about an inch of head space at the top of the jar.
Squish the berries down again. If they are floating or not staying submerged, you can use a non-reactive weight to keep them under the liquid line. If they are peeking out they can go moldy.
Cap tightly with a lid. If it is hot in your kitchen the fermentation might take as little as 12 hours but can go up to about 48. Place jar in a small bowl in case it bubbles and starts to leak. Avoid this by "burping" the jar—opening lid and checking progress starting at the 12-hour mark. They will begin to look bubbly after some time and when they are bubbly and have a sour/fermented kick that you like you can then store them in the fridge for about a month.
For the Roasted Kale Stem Oil:
Gather stems from a bunch of kale. I usually have bags of scraps in my fridge and freezer to make stocks, oils and such. Toss them in grapeseed oil and salt. Roast on parchment paper lined sheet pan in a 425-degree oven until they smell toasty and begin to get blackened, about 15-20 minutes. Let cool for a few moments, chop and then blend with about a cup of grapeseed oil per bunch of kale stems in a high-speed blender. Strain this overnight to get a clearer oil with no particulates. Keep in fridge for a few months. As it matures in fridge it almost begins to taste like truffle oil!
Arrange the tomatoes on a platter or individual plates or on top of crostini. Add some of the fermented berries (you can mash them up a bit too if you like, I sliced mine crosswise). Drizzle some of the brine from the ferment. Add some drops of the kale stem oil to form a broken vinaigrette. Top with Maldon salt.
Tessa Liebman is a Brooklyn chef and sensory provocateur. You can follow Tessa @tessitanyc and @scentsofplates
Photo by John McBride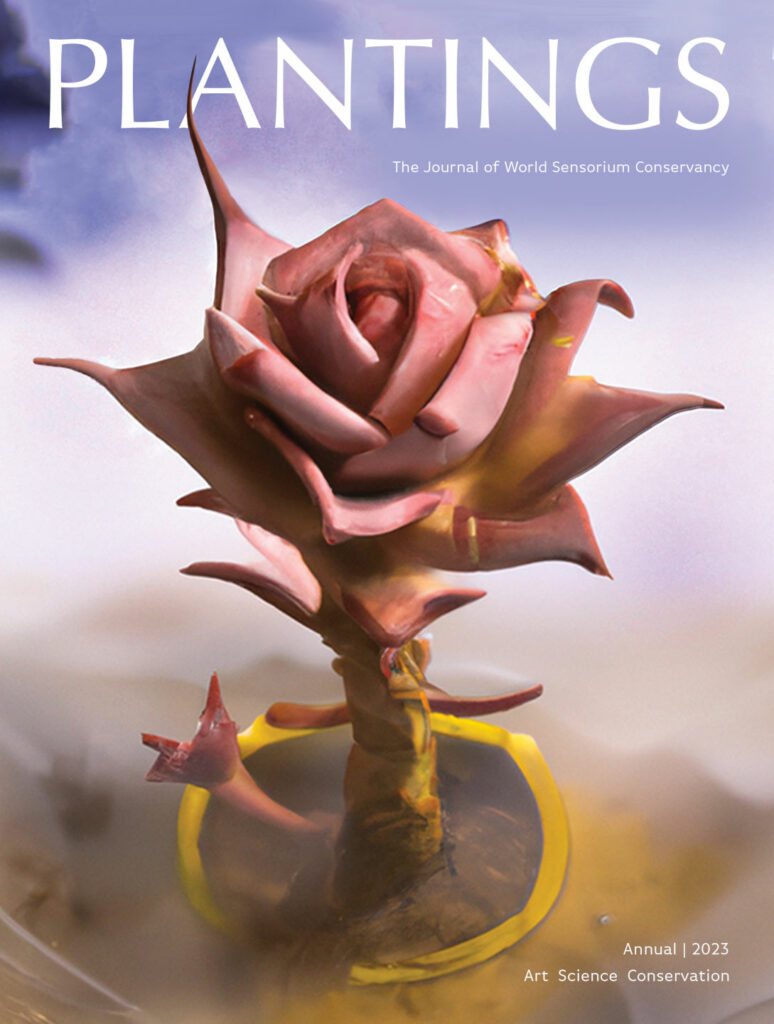 Plantings Print Annual 2023
Have you been looking forward to the 2023 Plantings print annual?
What do you like best about Plantings, the ideas and substance of the articles, the inspiring interviews, the beautiful photography, the creative charge to live sustainably? It's all available again in print for purchase in our store. The 2023 Plantings will available for shipping in April. Purchases in March are a special price of $20.00, after that it will be $22.00 shipped domestic.