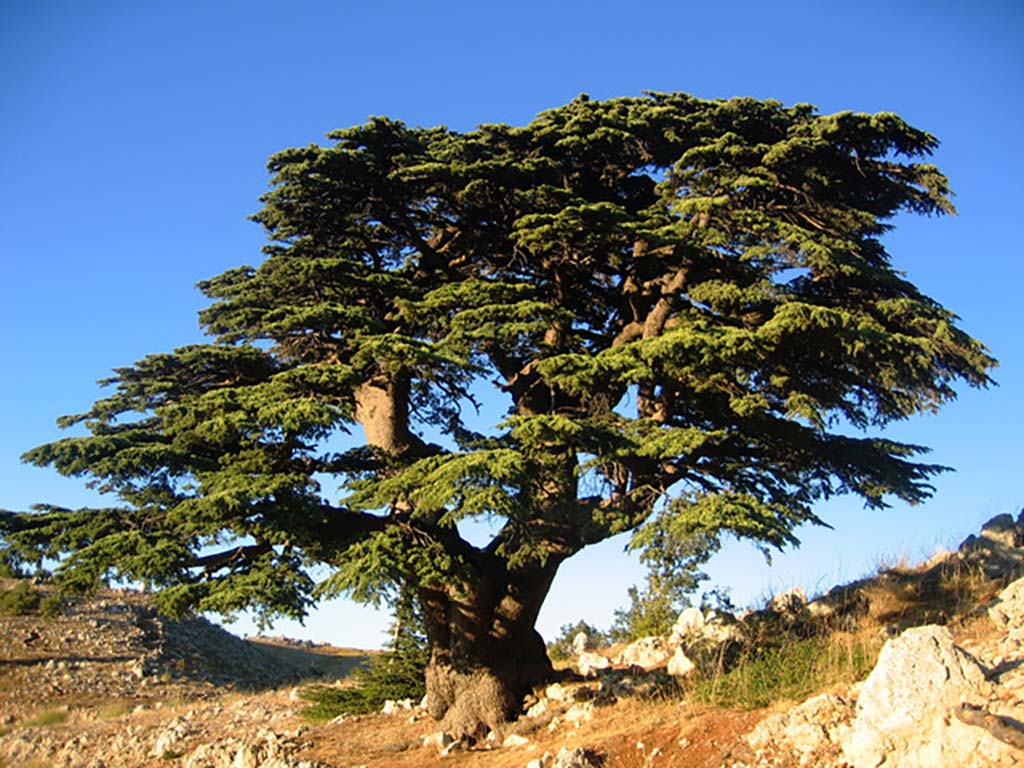 Lebanon
Cedar Of Lebanon
Cedrus libani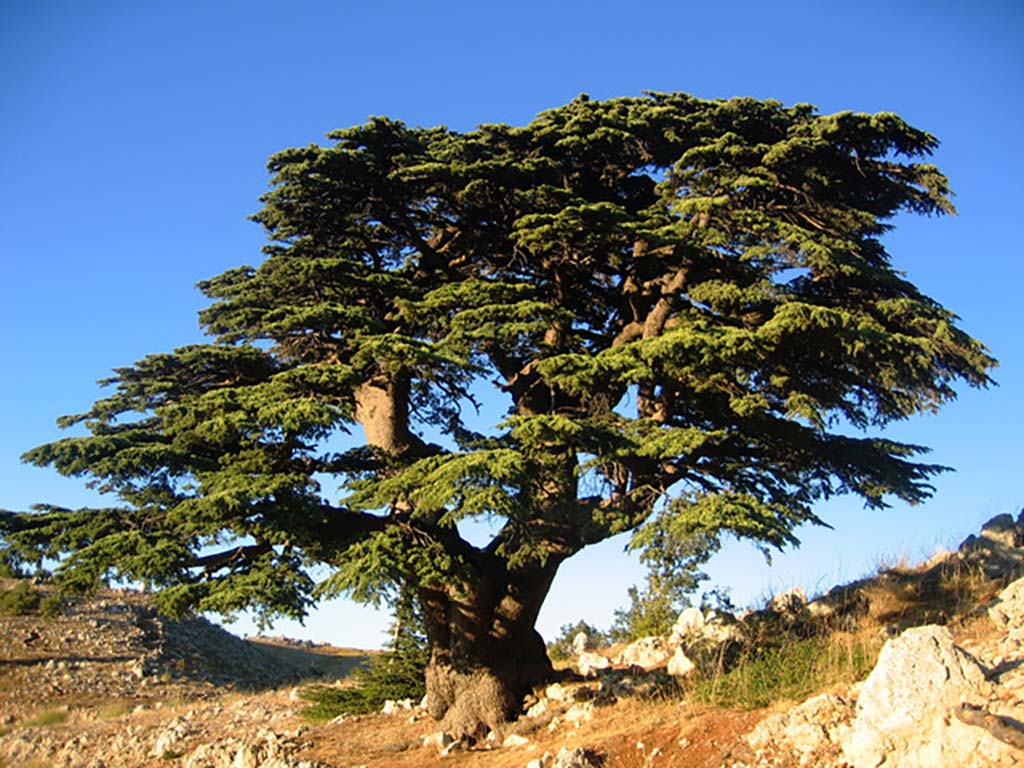 General Description / Cultural Significance
Positioned on the Mediterranean Sea, Lebanon has long been a great intersection of Middle Eastern cultural and commercial affairs. The country's rugged, rocky landscape transitions from fertile coastal plains and valleys into the snowy Lebanon Mountains. A long time ago, Lebanon was heavily forested, covered with the renowned Cedar of Lebanon, Cedrus libani. Although the tree has been overharvested to the point of extreme degradation, the fragrant Cedar of Lebanon remains, to this day, an incredible icon for the country and its people.
Surviving Cedrus libani forests enjoy the varied climate of this region which is both moist and cool. A symbol of eternity, the Cedar of Lebanon is featured on the country's flag and is commonly used to name Lebanese institutions within the country, a practice that is carried out into the world in immigrant communities around the globe. The tree has biblical roots: the aromatic wood is said to have been planted by God, utilized by King Solomon for building temples throughout Jerusalem, and included in the Maronite Marian litany which reads, "Cedar of Lebanon, pray for us." The navies of the ancient world sailed on ships made of strong Cedar timber and the oldest Cedars of Lebanon are more than one thousand years old, though very few persist to this day. The Cedar of Lebanon's fragrant wood produces an essential oil used in perfumery, and in Lebanese mythology its powerful aroma is said to ward away snakes which carry evil. Among Cedrus libani's medicinal qualities are its abilities to reduce inflammation, heal vascularized and dry skin, and act as an antiparasitic. Its leaves and wood have long been used as antiseptics and to treat respiratory conditions.
Climate Change / Conservation Status
The Cedar of Lebanon has been overexploited, loved to death by the admiration of humans. It was once widely distributed in Lebanon, especially along Mount Lebanon in its preferred elevation, which is between 1300 and 3000 meters. Nearly decimated due to overgrazing, the Cedars are a threatened species today. Cedrus libani has officially been added to the IUCN's Red List of Threatened Species and, in 1994, the World Wildlife Fund and the IUCN reported that only five percent of the original Cedrus libani forest remains, primarily distributed in the country's Arz Mountains. The beautiful smell of the Cedar of Lebanon still periodically scents Lebanese air; however, it is more often overtaken by the potent smell of poorly regulated waste management. Garbage pile ups have turned into a huge crisis since the Beirut port explosion of 2020.
Climate change has introduced a new risk to the survival of the Cedar of Lebanon. Ancient Cedars are unable to regenerate under the stress of recently shortened winters and newly limited snowfall, even at higher elevations. Wildfires have become more intense and, according to natural scientists in Lebanon, are burning areas seven times larger than average. Their flames will soon reach the heights of the few remaining Cedar forests. Increased temperatures have manipulated the life cycle of insects such as the sawfly, which used to coexist with the Cedar during cycles of hibernation that lasted six to seven years. Now they emerge every year, their larvae consuming entire tracts of Cedar whose timber was once prized for its impermeability to decay.
Having faced corruption, decades of occupation, civil war, and governmental ineptitude, local volunteers and charities have emerged to answer the call to action required to preserve Lebanon's Cedars and natural ecosystems at large. Community-led groups give fire prevention training and are adapting vehicles which can reach the high slopes where Cedars blanket the mountains, areas that have been previously inaccessible to fire-fighting vehicles.
These conservation actions are part of a powerful civilian groundswell of solidarity from a historically divided people whose history, culture, and survival, like that of the Cedar of Lebanon, remains at constant risk.
Alternate Names
Cyprus cedar
Cedar of God
Sources
Arango, T., & Saad, H. 2017. On Lebanon's Once-Sparkling Shores, a Garbage Dump Grows. The New York Times. [website]
Barnard, A., & Haner, J., 2018. Climate Change Is Killing the Cedars of Lebanon. The New York Times. [website]
Britannica, 2022. Cedar of Lebanon. Encyclopædia Britannica. [website]
Britannica, 2022. Lebanon. Encyclopædia Britannica. [website]
CABI, 2022. Cedrus libani (cedar of Lebanon). Invasive Species Compendium. [website]
Gardner, M., 2013. Cedrus libani. The IUCN Red List of Threatened Species. International Union for Conservation of Nature and Natural Resources. [website]
Lloyd, I., 2014. Gemmotherapy Cedrus Libani (cedar of Lebanon). MediaWiki. [website]
Nelson, J., 2017. Cedar prized for lumber, fragrance. Tallahassee Democrat. [website]
Permanent Mission of Lebanon to the United Nations. This statement can be found on the World Sensorium original website.
Roten, J., n.d. Cedar Tree as Symbol of Mary. University of Dayton. [website]
Sharif, A., 2017. A Brief History of the Cedar Trees of Lebanon. The Culture Trip. [website]
Sherlock, R., & Homsi, N., 2020. Climate change closes in on Lebanon's Iconic Cedar Trees. NPR. [website]
Soussi, A., 2021. Lebanon's cedar trees threatened by climate change. The Guardian. [website]