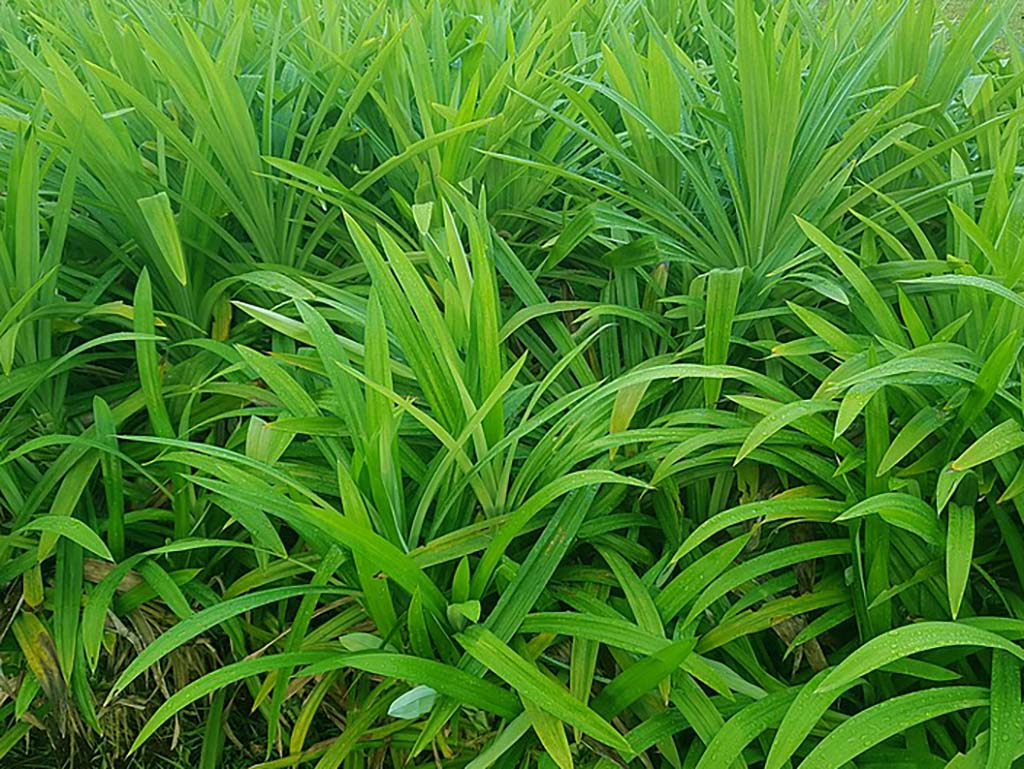 Malaysia
Pandan Wangi
Pandanus amaryllifolius (previously Pandanus odorus)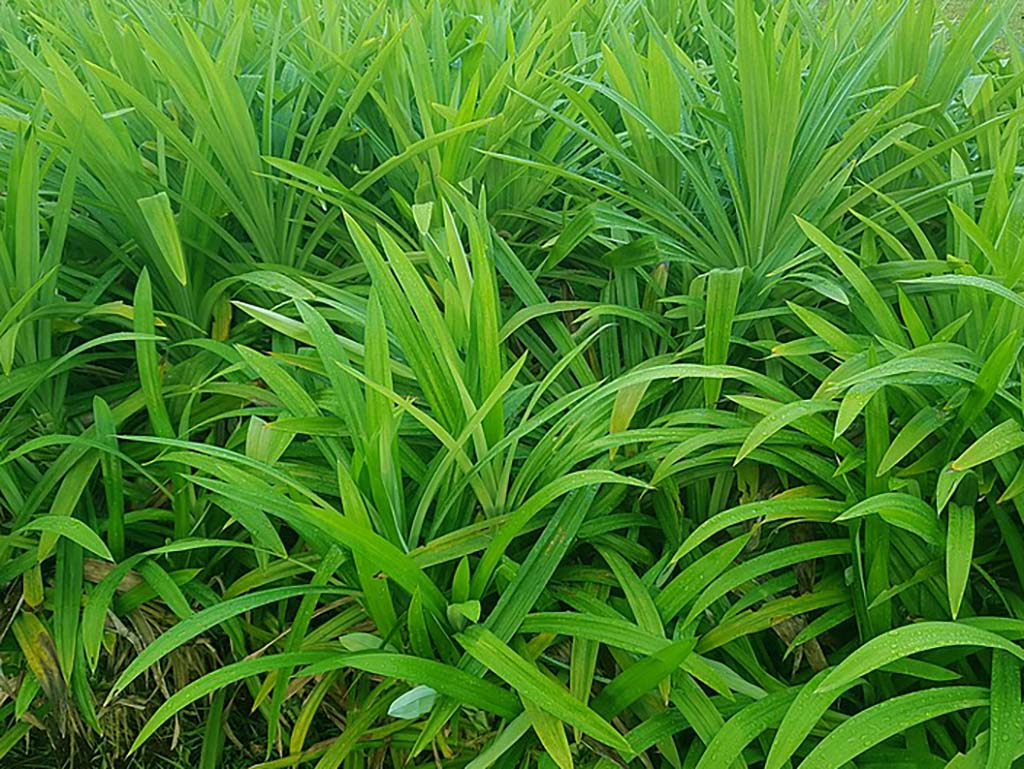 General Description / Cultural Significance
There is one plant in the Southeast Asian country of Malaysia which, through its scent alone, evokes Malaysia's cultural and environmental collective consciousness. This aromatic plant is Pandan Wangi, Pandanus amaryllifolius. The only Pandanus species with fragrant leaves, Pandan Wangi thrives in Malaysia's warmth and humidity, and is primarily cultivated in home gardens, making it easy to incorporate into daily cooking. The plant's leaves stay a bright green all year long and are often picked, tied together into a knot, and added to the boiling water of rice for a sweet aroma and tasty flavoring. Though Pandan Wangi leaves are not consumed themselves, they are added to line cooked meats, extracted for their juice to flavor cakes, utilized for their vibrant color as a food dye, and folded into a box structure which both practically holds food and flavors the cooking ingredients poured into it.
Malaysian people dry the Pandan leaves for use as an insect repellant. The thinly sliced leaves are mixed with other scented flowers to make a sweet-smelling bouquet called Bunga Rampai. Bunga Rampai is placed at the entrance of Malaysian wedding ceremonies; guests make a special point to smell the floral combination as it is a longstanding Malaysian symbol of the sweetness which marriage brings. During the merenji ceremony, the bride and groom are blessed with a potpourri made from Bunga Rampai.
In traditional Malaysian medicine, mothers who have recently given birth are encouraged to relax in baths of Pandan Wangi to enjoy the plant's calming, therapeutic aroma. The plant holds healing power beyond just its scent, however. Pandan Wangi has long been boiled with coconut oil and preserved for rubbing onto the skin to relieve aching muscles and pains. Pandan water has been traditionally drunk as a cure for urinary infections, internal inflammation, colds, and measles. An herbal tea extracted from Pandan Wangi has cardiotonic abilities, and contemporary research has proven the antiviral and antioxidant properties of Pandan leaves.
Because of the plant's accessibility in most Malaysian markets today, Pandan Wangi is enjoyed by Malaysians from all walks of life, as it has been for centuries. Its long tradition of cultivation, rather than wild growth, has protected it from Malaysia's changing climate and increasing environmental disruption.
Climate Change / Conservation Status
The entirety of the Southeast Asian region is subject to floods, landslides, and water pollution as climate change continues to wreak havoc on worldwide weather patterns. Malaysia is no exception. According to the global emergency response organization, OCHA, Malaysia has experienced fifty-one natural disasters from the turn of the twenty first century to 2018. During that time, coastal communities have lived under the constant threat of sea-level rise and flooding. Changing rain cycles and increased temperatures have set the stage for diseases such as malaria, cholera, and dengue to thrive and spread. Malaysian farmers are seeing a decrease in crop yield, a loss of biodiversity, soil and shore erosion, and extended droughts. The flowering and fruiting patterns of both cultivated and wild plants and trees are changing. This not only manipulates the patterns of migratory birds, but it takes an emotional toll on local Malaysians who are forced to constantly adapt to extreme climate situations.
Though house planted Pandan Wangi remains a positive and therapeutic presence in the homes of Malaysians, the country's environment will continue to deteriorate under the pressures of climate change if no sustainable action is taken on a global level. This puts even cultivated aromatic plants like Pandanus amaryllifolius, so important to Malaysia's culture, at risk.
Alternate Names
Rampe (India, Hindi)
Toei hom (Thailand, Thai)
Pandan mabongo (Phillipines, Luzon)
Sources
Alam, M.M., et al., 2011. Impacts of Climate Change on Agriculture and Food Security Issues in Malaysia: An Empirical Study on Farm Level Assessment. World Applied Sciences Journal, 14(3): 431-442. ISSN 1818-4952.
Belle, A., 2009. When There is Pandan, The Cooking's Done. My Nice Garden. [website]
Consulate General of Malaysia, New York, NY. This statement can be found on the World Sensorium original website.
Kimie, N., 2017. Bunga Telur: The adat of eggs in Malay weddings. Butterkicap. [website]
Liew, P.S., 2013. Pandanus amaryllifolius – The only Pandanus with fragrant leaves. Tropical Biodiversity. [website]
Nurul, 2021. What are Bunga Rampai, Bunga Pahar & Bunga Manggar? With Love, Nurul SG. [website]
Panirchellvum, V., 2017. Climate change is disrupting the Malaysian ecology: MNS. The Sun Daily. [website]
Rahman, H. A., 2018. Climate Change Scenarios in Malaysia: Engaging the Public. University Putra Malaysia, 1(2): 55- 77. ISSN 2621-2951.
ReliefWeb, 2019. Malaysia: Disaster management reference handbook (June 2019). ReliefWeb. [website]
Wongpornchai, S., 2006. Pandan Wangi. Handbook of Herbs and Spices, 3: 453–459. DOI: 10.1533/9781845691717.3.453