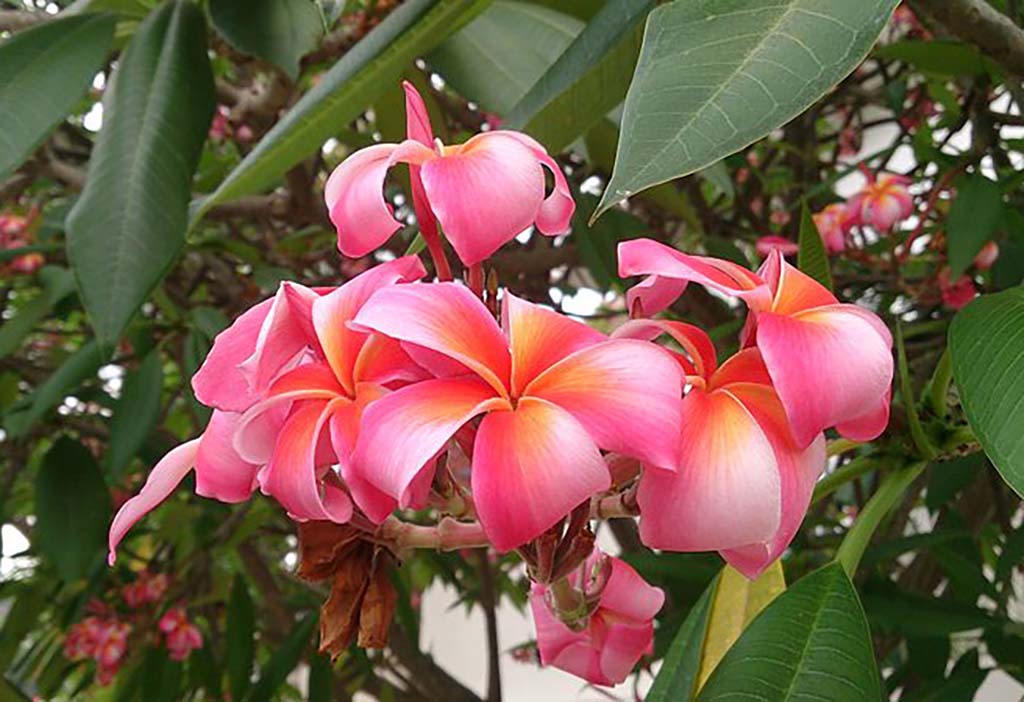 Martinique
Frangipani
Plumeria rubra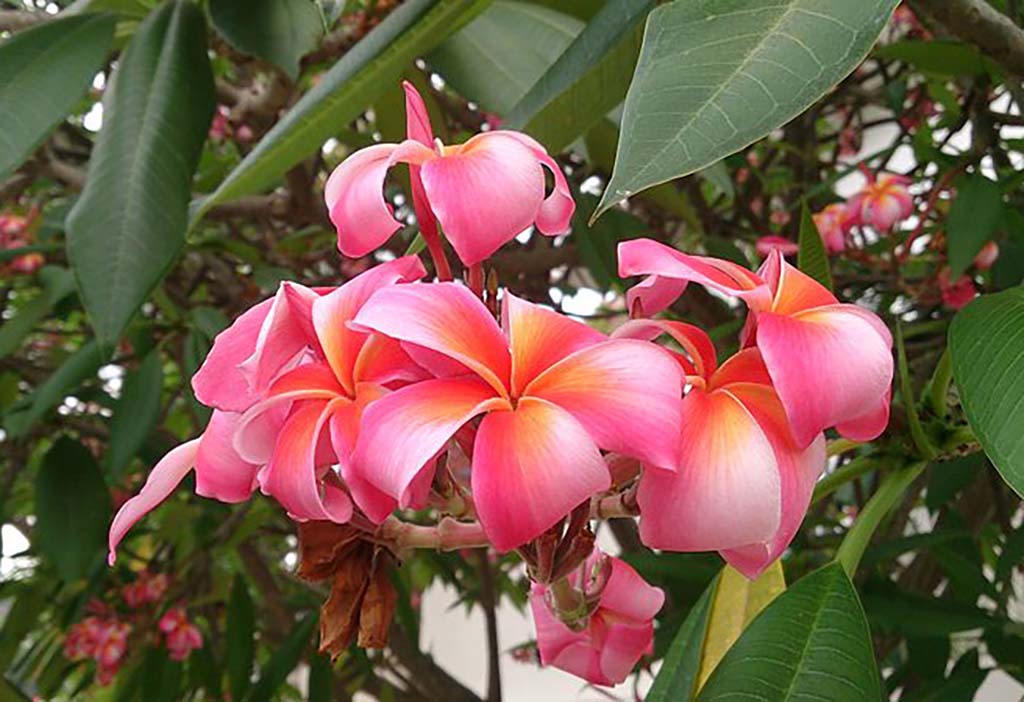 General Description / Cultural Significance
In the eastern Caribbean Sea along the Lesser Antilles Island chain lies the country of Martinique. Many rivers weave throughout the island's mountainous terrain and the country's fertile, volcanic soil grows numerous lush trees, herbs, and flowers. The island blooms in color, home to thousands of flower species including Hibiscus, Rose, Orchids, and the uniquely important and aromatic Frangipani, Plumeria rubra. Thriving best on the more arid, south side of the island, Frangipani is a deciduous shrub or tree which blooms nearly year-round in bright pink and red blossoms. The flowers produce a strikingly pleasing scent, making it a popular ornamental tree and a sweet, culinary flavor prized throughout the Caribbean and worldwide.
Although most parts of the Frangipani are mildly toxic, especially its latex sap, the plant has tremendous medicinal value when prepared properly. Its active constituents are anti-fungal, antibacterial, antitumor, and antiviral. Plumeria has been traditionally used to soothe toothaches and is the main ingredient in a popular pectoral syrup for sore throats, respiratory infections, and swollen sinus systems. Compounds from Plumeria rubra heartwood have displayed antibacterial activity, the root bark of the plant has long been used as a purgative, and many Caribbean cultures utilize the leaves as healing wraps around bruises.
The beautiful, ornamental species is generally drought tolerant and is being grown worldwide and developed into new cultivars on a large scale. Hoping to meet the needs of international demand, cultivators have begun grafting their Plumeria plants, resulting in a stronger root system. In fact, after Hurricane Katrina, Plumeria plants grown from grafts were not affected while most others were completely uprooted by the high winds. This may be the key to ensuring Frangipani's survival as climate change brings more violent weather events to Martinique and beyond.
Climate Change / Conservation Status
Coastal zone management is a priority in Martinique. Most of the country's population resides along the coast, as does the bulk of the island's infrastructure. Both are at risk from rising sea levels, flooding, and the increased ferocity of storms. Acidification and increasing sea temperatures threaten the coral reefs and mangrove forests that surround much of the island. These reefs help protect the island from energetic waves coming from the sea, and losing them would mean losing the island's only defense against more frequent and more aggressive storms. Inland, rising temperatures and droughts are affecting food and water security and threatening mountainous tropical forests in the north.
Tourism is a major source of economy for Martinique, and is centered on the south of the island, where Frangipani and the most vibrant biodiversity attracts travelers. The health of these rich forests and beaches is threatened by more frequent, intense hurricanes which not only deter tourists but destroy development and devastate the natural beauty of these areas. After tourism, Martinique depends on agriculture, which is also suffering at the hands of shifting seasons. For instance, Martinique farmers have always timed their annual growth through two seasons: hivernage (the warm, humid, and rainy period from May to November) and carême (the dry months from December to April). Now, local farmers claim that the two seasons are indistinguishable. They have become one long stretch of unpredictable rainfall and inconsistent, not concentrated yields, even for major crops like sugarcane which have been grown in Martinique since they arrived during colonization.
It is thought that Martinique's original Arawak name was Madinina, or Island of Flowers. Left untouched for thousands of years, Martinique was a biodiversity hotspot, home to some of the world's most stunning and powerful medicinal plants which were well understood and cared for by indigenous people. Today, traces of this vibrant ecosystem remain despite the long-lasting effects of colonization and the ever-increasing impacts of climate change. The Frangipani remains a symbol of hope, both practical in its ongoing use as medicine and emotional as it represents the natural beauty so indicative of Martinique's culture.
Alternate Names
Red Frangipani
Sources
All Things Frangipani, 2016. About Frangipanis. All Things Frangipani. [website]
The Consulate of France, New York, NY. This statement can be found on the World Sensorium original website.
European Commission, 2014. The economic impact of climate change and adaptation in the Outermost Regions. European Commission. [website]
Cornevin, R., 2022. Martinique. Britannica. [website]
Gardenia.net, 2022. Plumeria rubra (Frangipani). Gardenia. [website]
Timmermans, W., et al. 2019. Urban Climate Adaptation. INNOVA. [website]
Manisha, K. & AN, A., 2016. Review on traditional medicinal plant: Plumeria rubra. Journal of Medicinal Plants Studies, 4(6), pp.204–207.
Martinica, 2015. Nature of Martinique. Martinica Online. [website]
Uttaranchal (P.G.), 2020. Medicinal uses of Plumeria rubra. UCBMSH. [website]
Vannoorbeck, C., 2015. Plumerias On the Move. Plumeria Care. [website]