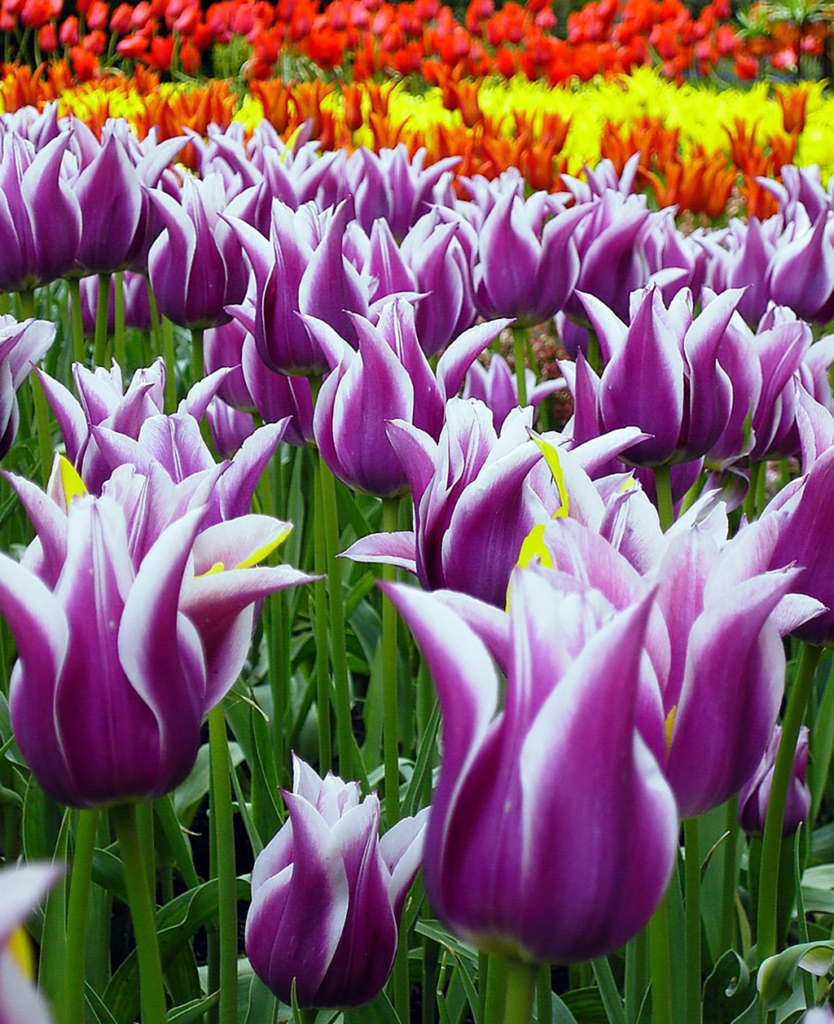 Netherlands
Tulip
Tulipa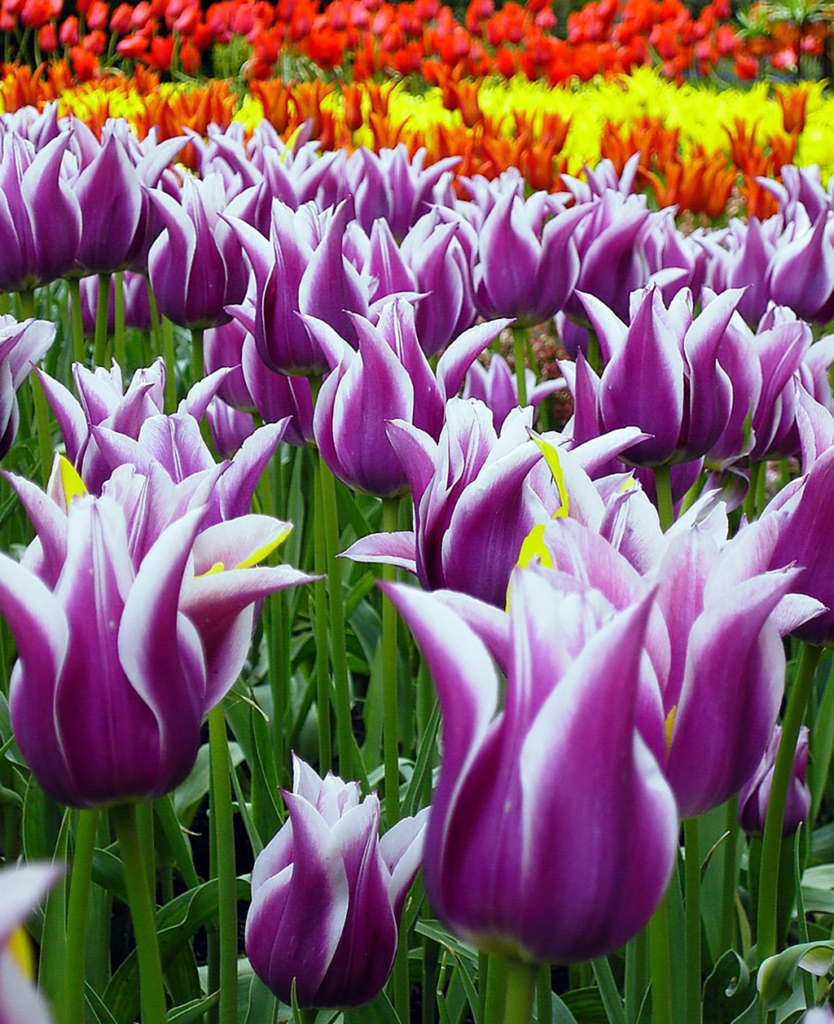 General Description / Cultural Significance
The Netherlands, which means "low-lying country," is a relatively flat country made up of lakes, rivers, and canals. From mid-April to May, the green country is transformed into a sea of Tulips, Tulipa. After seven years of growth, the plants are ready to produce their iconic floral blooms which come in an expansive range of colors. Tulips grow from bulbs and are propagated from both buds and seeds located inside the seedpod of the flower. They are both self-pollinating and use cross-pollination, relying on wind, insects, animals, and humans to transport pollen from one bloom to another. Tourists from all around the world flock to the Netherlands every year to witness the country's Tulips in bloom. At one commonly visited garden surrounding the Keukenhof Castle in Lisse, seven million bulbs draw more than a million and a half visitors annually.
Originally a wildflower of Central Asia, the obsession with Tulips began even before they were cultivated by Ottoman sultans. The flower has since been grown by cultures around the world and was first cultivated in the Netherlands in 1562. The flower's beauty and saturated color soon became a coveted status symbol. The world was willing to pay so much for Tulip bulbs that a market crash occurred in the mid 1600s, now considered the first ever economic bubble. To some extent, this economic event overshadowed the Tulip's long history as a highly fragrant, medicinal, and culturally valuable plant.
During World War II, famine following the battle lost at Arnhem in 1944 was so extreme that Tulip bulbs, both farmers' stocks and wild growing varieties, became an essential food to help curb extreme hunger. Newspapers even published the best Tulip recipes. To this day, Tulip petals are included in culinary traditions in the Netherlands and elsewhere. Even before saving lives, Tulips were always an important medical resource for the Dutch. Juice extracted from crushed Tulip petals and the base of the bulb has been used to relieve scratches, itching, and skin irritation, and as a general revitalizer for blemished, chaffed, and dry skin. A poultice made from the flower is used to treat bee stings and insect bites. Tulips are incredibly high in antioxidants and their wonderful scent is enjoyed as a mood enhancer by all those who seek them out or simply walk past them and partake in their aromatic richness.
Climate Change / Conservation Status
As a low-lying country of flat land, rivers, and ponds, the Netherlands has struggled with flood management for centuries. Climate change has brought more river swells, destructive flooding, unpredictable rainfall, and increased erratic weather. Small farms are being swallowed by water, requiring many Dutch people to move away from the land they have cultivated for years. For those who can't evacuate during storms, recent floods have proved fatal. The country has taken to climate adaptation in the form of water pumps, dikes, and moveable seawalls to hold back encroaching waters and is also taking necessary steps to reduce carbon emissions and limit global warming at its source.
The Netherlands' most sought-after Tulip destination, Keukenhof, needed to plant thirty percent more bulbs in 2020 to maintain the productivity of past years. Temperature volatilities brought on by climate change are causing the Netherlands' flora, not just Tulips, to emerge earlier each year. Because of this, the flowers expend their energy earlier in their annual growth cycle and are less likely to survive the year. Climate change and an increase in the use of harmful pesticides and exposure to other pollutants all pose threats to the Tulip, an institution of beauty, fragrance, and symbolism which extends far beyond The Netherlands and into our collective, sensory experience of earth's captivating flora.
Alternate Names
Tulp (Dutch)
Sources
Fluwel, 2022. Eating Tulip Bulbs. Fluwel. [website]
Hayes, A., 2021. Dutch Tulip Bulb Market Bubble. Investopedia. [website]
Krever, M., & Black, P., 2021. The Dutch are masters at taming water. Climate change is teaching them to just let it flood. CNN. [website]
Ibrahim, M.F. et al., 2016. The main constituents of Tulipa systola stapf. roots and flowers; their antioxidant activities. Natural Product Research, 31(17): 2001–2007. DOI: 10.1080/14786419.2016.1272107
Lalor, A., 2020. Climate change is bad for tulips, too. Dutch Review. [website]
Masters, S., 2019. Chasing Rembrandt's Tulips on Two Wheels. The New York Times. [website]
Medicinal Plants, 2022. Tulip: Third Most Popular Garden Flower. Medicinal Plants. [website]
Netherlands, 2022. Tulip season in The Netherlands. Holland.com. [website]
Netherlands Board of Tourism and Permanent Mission of the Kingdom of the Netherlands to the United Nations. This statement can be found on the World Sensorium original website.
ProFlowers, 2021. How do tulips disperse their seeds? Pro Flowers. [website]
Smaus, R., 1989. A Different Stripe: 'Broken' Tulips, Outlawed in the '80s, Are Available Again at Nurseries. Los Angeles Times. [website]
Sooke, A., 2016. Tulip mania: The flowers that cost more than houses. BBC. [website]
Willemse, M., 2021. The Quest to Save a Dutch Icon. Universiteit Utrecht. [website]