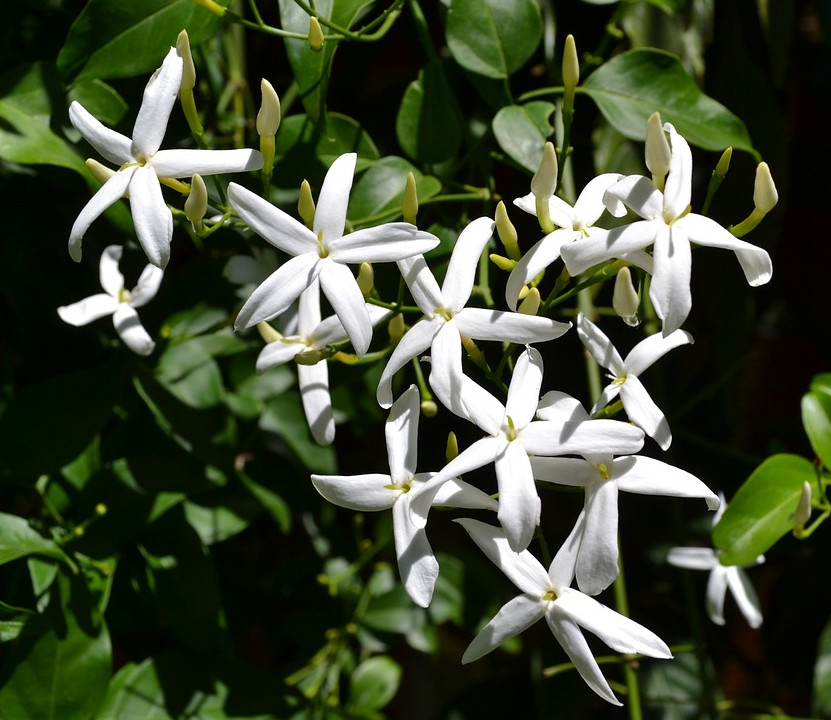 Pakistan
Jasmine
Jasminum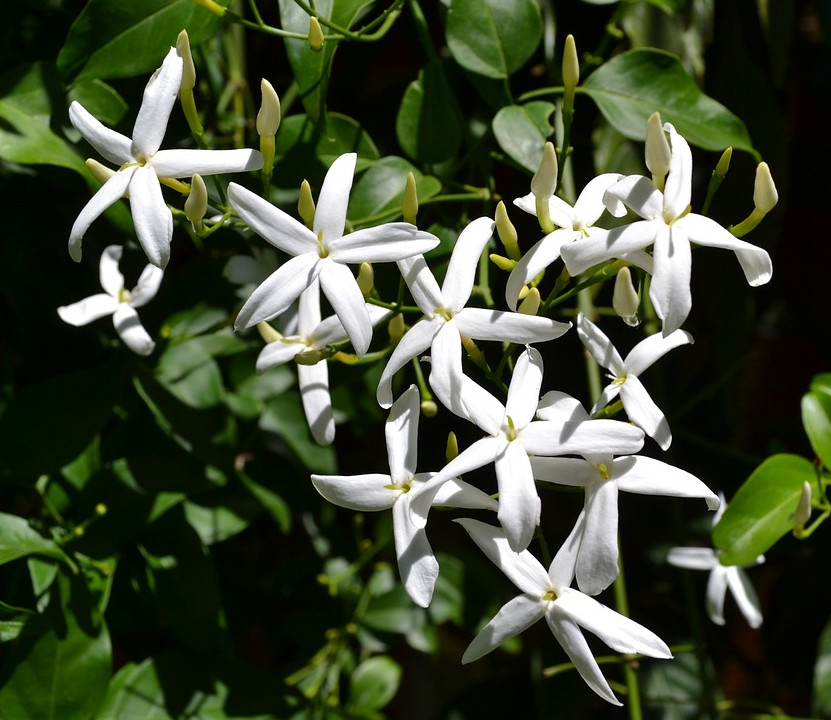 General Description/Cultural Significance
On the western edge of South Asia, nestled between Iran, Afghanistan, China, and India, Pakistan shares the region's grand diversity of plant life, and the most culturally significant of all is the scent of jasmine. The flower blooms in the summer and during that season it can be found in women's hair, in street vendor stalls, and of course growing on the land. Traditionally, this gentle scent is used during significant life events such as covering the sheets of a wedding bed. It is also a vital ingredient in unani medicine, teas, and perfumes. Jasmine petals can be found floating in bowls of water in homes and are also added to teas to bring both medicinal benefits and an extra aroma to a calming drink. For these reasons, it is the beloved national flower of Pakistan.
Climate Change/Conservation Status
Climate change is becoming dire for Pakistanis, from big cities to rural areas. In fact, the Washington Post has said, "climate change is a bigger threat to Pakistan than terrorism." In recent studies on the impacts of climate change, Pakistan is listed as the fifth most vulnerable country to climate disasters. Rising sea levels are predicted to overtake three major Pakistani cities, Karachi, Badin and Thatta by 2060. Between 1998 and 2018 nearly 10,000 people have died from climate change related disasters and these events have cost country about $4 billion. Monsoon season is especially devastating for the country. From June through August there is an almost constant danger of extreme flooding. This year the rains have been 87% heavier than average, causing damage to already suffering infrastructure. These heavy rains aren't the only threat to the survival of jasmine. Increased presence of pests and early morning winter frosts brought on by climate change are harming the plant's survival as well.
Sources
English.Mathrubhumi. 2022. Jasmine price touches Rs 2500 per kg but production remains low due to climate change. [online] Available at: <https://english.mathrubhumi.com/features/agriculture/jasmine-price-touches-rs-2500-per-kg-but-production-remains-low-due-to-climate-change-1.5455489> [Accessed 1 August 2022].
Mir, H., 2022. Climate Change is a Bigger Threat to Pakistan Than Terrorism. [online] The Washington Post. Available at: <https://www.washingtonpost.com/opinions/2022/07/14/climate-change-pakistan-india-worse-threat-terrorism/> [Accessed 1 August 2022].
ur-Rehman, Z., Goldbaum, C. and Masood, S., 2022. Pakistan's Deadly Flood Season Worsened by Climate Change and Bad Infrastructure. [online] Nytimes.com. Available at: <https://www.nytimes.com/2022/07/24/world/asia/pakistan-monsoon-floods.html> [Accessed 1 August 2022].