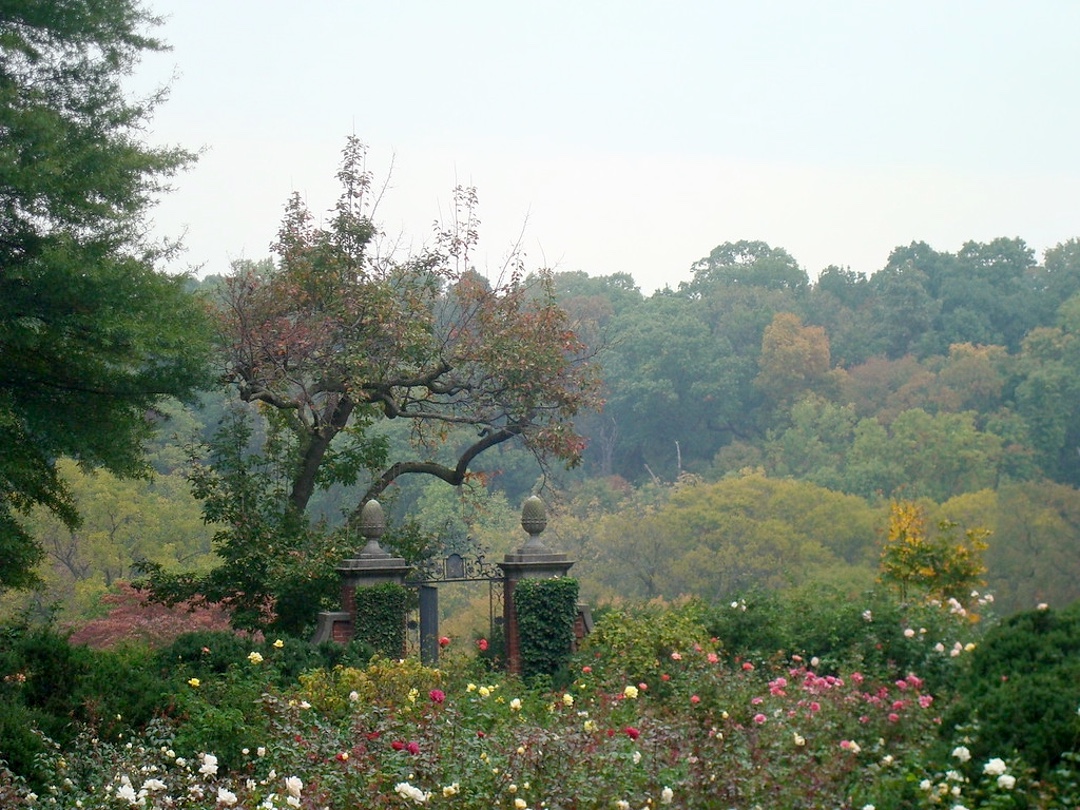 Rediscovering Dumbarton Oaks and One of America's First Landscape Architects
By Liz Macklin
Sign up for our monthly newsletter!
If I had a golden ticket to travel back in time, I would start by exploring a garden.
After more than a year with locked gates, Dumbarton Oaks has opened its garden again, and I was eager to visit. Designed by celebrated landscape architect Beatrix Farrand in collaboration with patron Mildred Bliss, the garden is ever changing. Yet, it offers a glimpse of a way of life now past. More than a hundred years ago Beatrix Farrand first visited "The Oaks," a hilly property dotted with majestic trees.¹ Over time the vision of a cultural center and residence for a prominent official and his wife evolved, and in 1940 the Blisses divided the estate, giving more than 16 acres, including a Georgian mansion and art treasures, to Harvard University. They donated an additional 27 acres to the United States government as a public park.² I was curious to see how the garden has fared.
I entered through the R Street gate. The walk up the drive to the Orangery often stirs memories—like those of a chilly November afternoon when fragrances of jasmine and citrus filled the glassy oasis. This time a boy, not more than four years old, stood by the door and called out to me, "They grow oranges here!"
In The Sun on Sunday, October 31, 1897, Farrand said, "I was always fond of gardening. As a child in Bar Harbor, where we spent the summer, I was continually digging up things in the woods and planting them in the house yard."³ Discoveries on hikes along the Maine coast led to her lifelong interest in native plants. At Dumbarton she prized the old oaks on the South Lawn, and her Plant Book of 1941 gave specific instructions for their care and replacement.⁴ Plantings close to the house reflect both Bliss's and Farrand's travels to grand estates in France and Italy. These highly formal and carefully cultivated gardens include native plants and a wealth of species from Asia and Europe. Further down the hillside, the landscape changes. A path past Cherry Hill leads to generous drifts of forsythia.
My visit to the garden brought questions. Jonathan Kavalier, Director of Gardens and Grounds at Dumbarton Oaks, agreed to share his insights. We spoke online on June 16, 2021.
Immediately, he asked for my opinion, "How did you find the gardens?"
I replied, "They were really beautiful…very green. I've never been there when it's snowy. I've visited in the spring and in the autumn."
He explained, "I'm asking people what their impressions are as they come into the garden, especially people who've been here before. We've been closed for a year and a half. It's been a while, so you really notice changes more than if you were here regularly, and it's nice to capture different perspectives. It was a tough year and a half. We saw about a 40% reduction in labor hours in the garden, and it's looking and feeling a bit wild."
(If he meant untamed or uncultivated, I hadn't noticed.)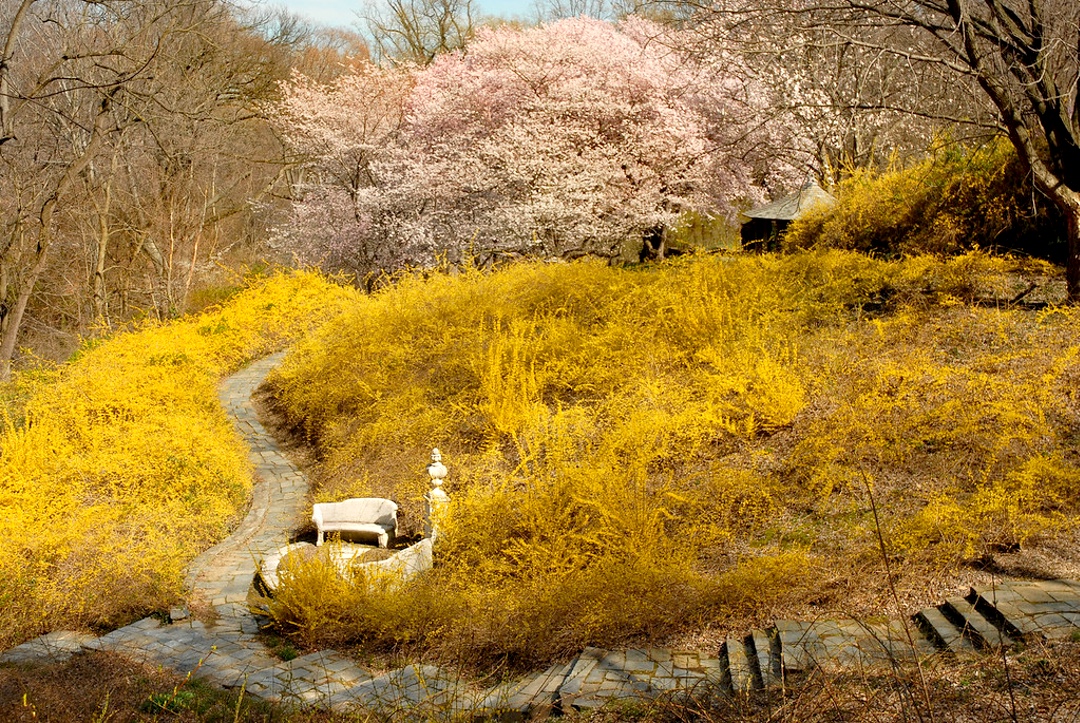 Forsythia in bloom in the spring © Dumbarton Oaks
Beatrix Farrand is celebrated as one of the first female landscape architects and one of the first to use native plants, but she didn't always use native plants did she?
You know she was exposed early on to native plants, and she gardened with native plants, but I don't think there was the same ideology around native plants then. Native plants were just plants. She used plenty of exotic plants, too. On her plant list [for the Lover's Lane Pool area] is kudzu, because it was a very efficient screening plant. Fortunately we don't have it anymore.
We did a garden-wide study in 2018 with an intern from the GSD [Graduate School of Design] at Harvard. It was called Reimagining Farrand. We cataloged all the invasive plants that were on her plant list and still in the garden. Also, invasive plants in the garden but not on her list—with those, it's easy. You can just make a decision. They are not even historic.
Some plants on her list are central to her design, like Chinese and Japanese wisteria. We're not likely to get rid of those plants. Replacing them with an American wisteria would really change the character, because of the differences in floral display. That's an example where we've decided to maintain wisteria, but we're going to try to control it by pruning off the seed pods wherever possible and pulling out the seedlings when they do come up. Then vegetatively it's pretty easy to control with maintenance. What worries me more with invasive plants is seed dispersal rather than aggressiveness.
But then there are other plants in the garden… there is a lot of Amur privet that she used because it was a spring bloomer. It's nice, light, airy, so it had a place, but it's easily replaceable with a number of native shrubs that also bloom in the spring. They may not have the fragrance or other characteristics, but they'll carry the design intent. Because that plant is a filler plant and never used in a specimen-type situation like the wisteria, it's easy to replace.
What do you like about Farrand's design? What appeals to you the most?
I think it's a genius design, especially here at Dumbarton Oaks. What strikes me about it is the holistic integration of the garden into the land. With incredibly steep topography, the way she created these terraces with minimum cut and fill and followed the contour of the land is remarkable. Even some of the main axes through the garden, like the Boxwood Walk and the Ellipse, either follow the natural topography or the built environment that she encountered when she arrived. There was a cow pond down near Lover's Lane, and she transformed it into a pool, maintaining the presence of water. And fitting amphitheater seating into a hillside, while protecting all the trees around it, is remarkable.
You should really visit in the winter. You see the structure in the garden. In the summer things get covered up with so much vegetation. In the winter it's a stark and beguiling experience—a very different experience.
Also, her playing with formality and informality and symmetry and asymmetry is really whimsical. She used such a refined style, but there are tricks everywhere. There are places where the garden is not quite symmetrical. When you are standing on Urn Terrace looking over into the Rose Garden, you realize you are just off axis.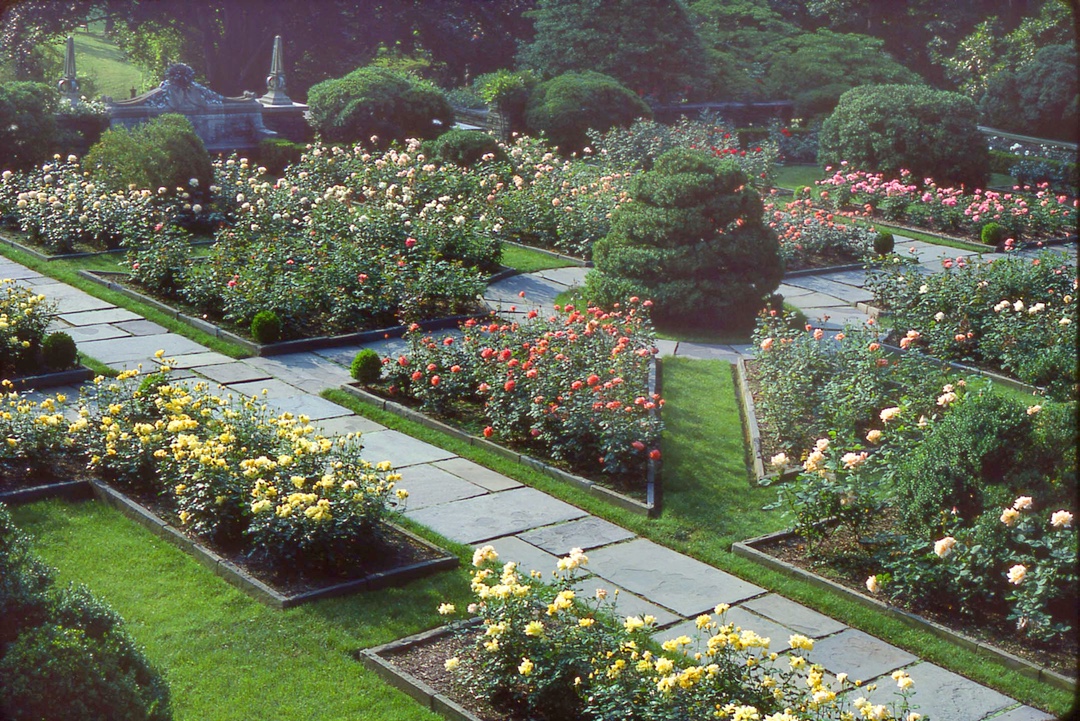 View across the Rose Garden © Dumbarton Oaks
Or when you come around the corner down from Mélisande's Allée and you turn into what will be the Herbaceous Border, you first encounter this huge Taxus, Irish Yew. You are in this little room and it feels a little odd. Then you come around a blind corner and you have this moment of beauty with the Herbaceous Border. A lot of conceal and reveal moments.
I think it's really genius the way she directed the progression through the garden with focal points. A lot of times the focal points are plants. When they're in flower they draw you down a certain path, and when they're not in flower you are enticed by something else. It's very thoughtful, these little windows through the spaces, so you can see the layers of the landscape.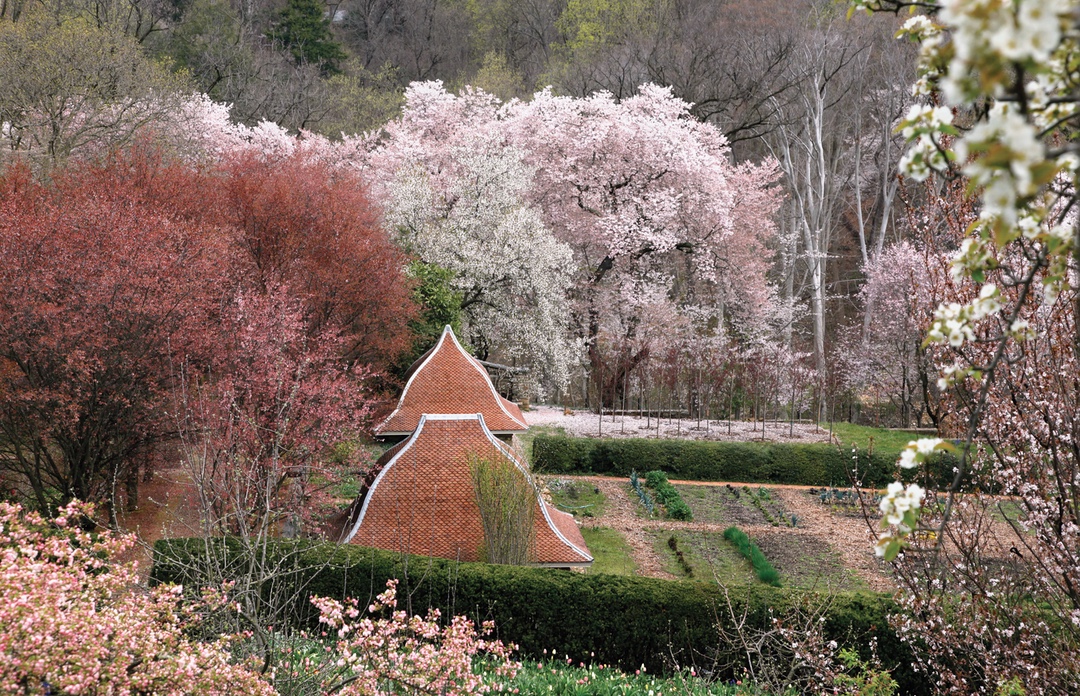 View across the hillside to the Kitchen Garden and beyond to Cherry Hill © Sandy Kavalier
I was just showing someone the toolsheds in the Kitchen Garden, which are heavily inspired by Gertrude Jekyll. In fact in Gertrude Jekyll's book Garden Ornament, there is a picture of—I think it's a guest house—in a garden in Scotland that has almost the exact roofline… but then Farrand put her own spin on things. There are two toolsheds perfectly symmetrically placed within the vegetable garden, but on one of them she had the roof go to a point and on the other she had the roof go to a gable end. They play off each other. And those are a couple of things that make it a timeless place.
From above the kitchen garden, you see the curves of the roofs and then those beautiful colors—trees that are reddish brown. The rooflines add something.
What you are describing there, the layers, are only possible because of the topography of the garden. Whether you are looking down the hill or up the hill, you see layered gardens and one building on the other. They fit so well together.
My predecessor Gail Griffin, who was the director for 21 years, compared the garden to a chambered nautilus. I think it's a great analogy because individual gardens are interwoven and connected but not in a linear way. One doesn't necessarily lead to the next, but you get there in the end.
With these recommendations in hand, I vowed to return to the garden, looking for a host of inventive ways to design with plants, walkways and terraces on hillside spaces. Of course, since the garden is everchanging, something new and oh-so-elegant caught my eye near the French Steps—the first bloom on the Magnolia grandiflora, native on loamy soils from North Carolina to Texas—a beautiful ending to a midsummer visit.⁵
Liz Macklin is an artist and author, who first explored Dumbarton Oaks as a young architect in a drawing class that met in the garden just as the forsythia bloomed in early spring.
Thank you to Jonathan Kavalier, Erica Borgese, and Pam Ginsbach for their help to make this article possible.
1 Tamulevich, Susan. Dumbarton Oaks: Garden Into Art. Monacelli Press, 2001, p. 42.↩
2 Carder, James. "75 Years Ago this Month: The First Month of Official Business." 20 November 2015, https://www.doaks.org/research/library-archives/dumbarton-oaks-archives/historical-records/from-the-archives/75-years-ago-this-month-the-first-month-of-official-business ↩
3 "Miss Beatrix Jones' Vocation: She Does Landscape Gardening from the Ground Up," The Sun, (New York, NY), 31 December, 1897, 2 p. 5. https://tile.loc.gov/storage-services/service/ndnp/nn/batch_nn_pizan_ver01/data/sn83030272/00175042957/1897103101/0984.pdf ↩
4 Farrand, Beatrix, edited by Diane Kostial McGuire. Beatrix Farrand's Plant Book for Dumbarton Oaks, Dumbarton Oaks Trustees for Harvard University, 1980, p. 10 ↩
5 Outcalt, Kenneth. "Southern Magnolia," https://www.srs.fs.usda.gov/pubs/misc/ag_654/volume_2/magnolia/grandiflora.htm ↩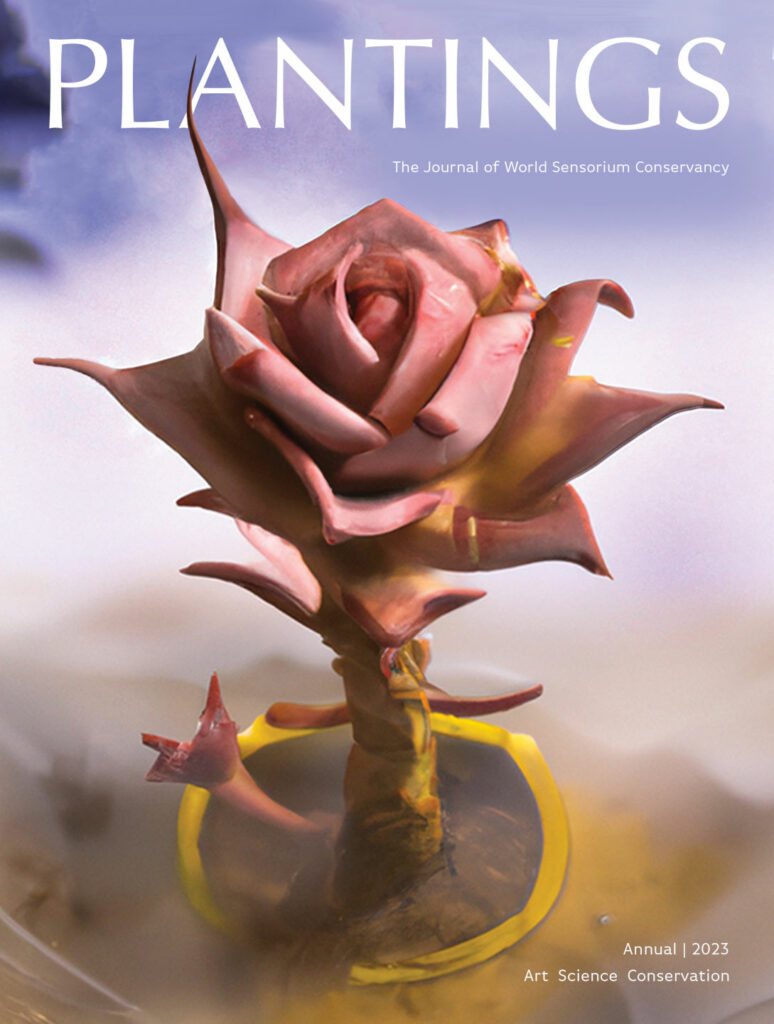 Plantings Print Annual 2023
Have you been looking forward to the 2023 Plantings print annual?
What do you like best about Plantings, the ideas and substance of the articles, the inspiring interviews, the beautiful photography, the creative charge to live sustainably? It's all available again in print for purchase in our store. The 2023 Plantings will available for shipping in April. Purchases in March are a special price of $20.00, after that it will be $22.00 shipped domestic.