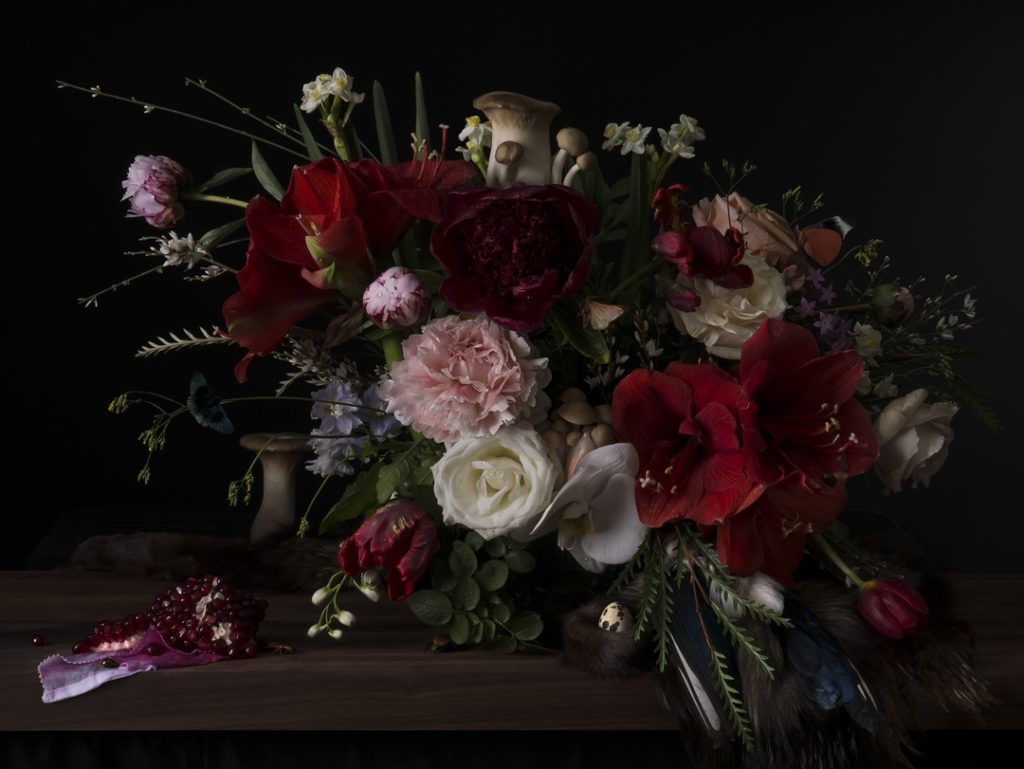 Stilled Chimeras
By Margaux Crump
Sign up for our monthly newsletter!
Forests grow within us. Our bodies are vibrant landscapes teeming with microscopic bacteria, archaea, viruses, and fungi. Inextricably linked in a web of interconnectivity, we rely on this unseen world to survive: to help us digest our food, strengthen our immunity, and even augment our genome. Like mythical chimeras composed of disparate animal parts, we are an assemblage of human and non-human cells. At our most fundamental level, our individuality is an illusion. We are ecological beings.
But where do we begin and end? As we exist in a collective body within a broader ecology, what are the boundaries between Self and Other? Where do we shift and slip and oscillate from individual to multiple? What might we find in these liminal spaces where these binary constructs dissolve and our edges blur into each other?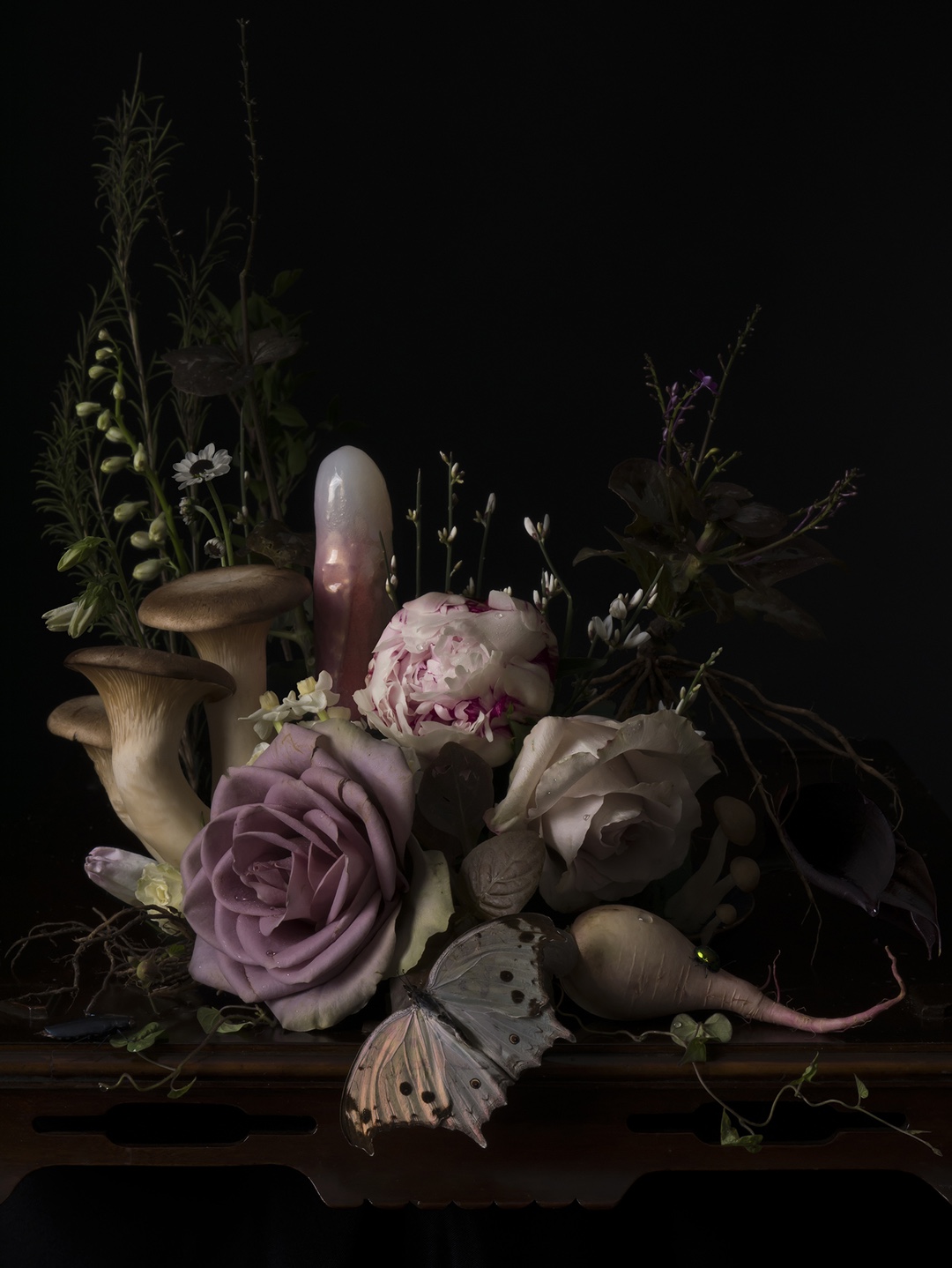 In my photographic series, Stilled Chimeras, I explore these questions through the visually rich tradition of botanic still lifes. Consisting of myriad beings, this work expands on the forest still life paintings of the Dutch Golden Age. Rather than displayed in a vase, these bosstilleven floral arrangements appear to be growing on the forest floor amidst mushrooms, moss, and small woodland creatures. Yet the flowers depicted cannot naturally grow in this environment and often bloom in different seasons. These meticulously crafted scenes are constructs built on our impressions of the natural world; the order and disorder we imagine there; the beauty that mesmerizes us; the abundance we perceive as ours for the picking.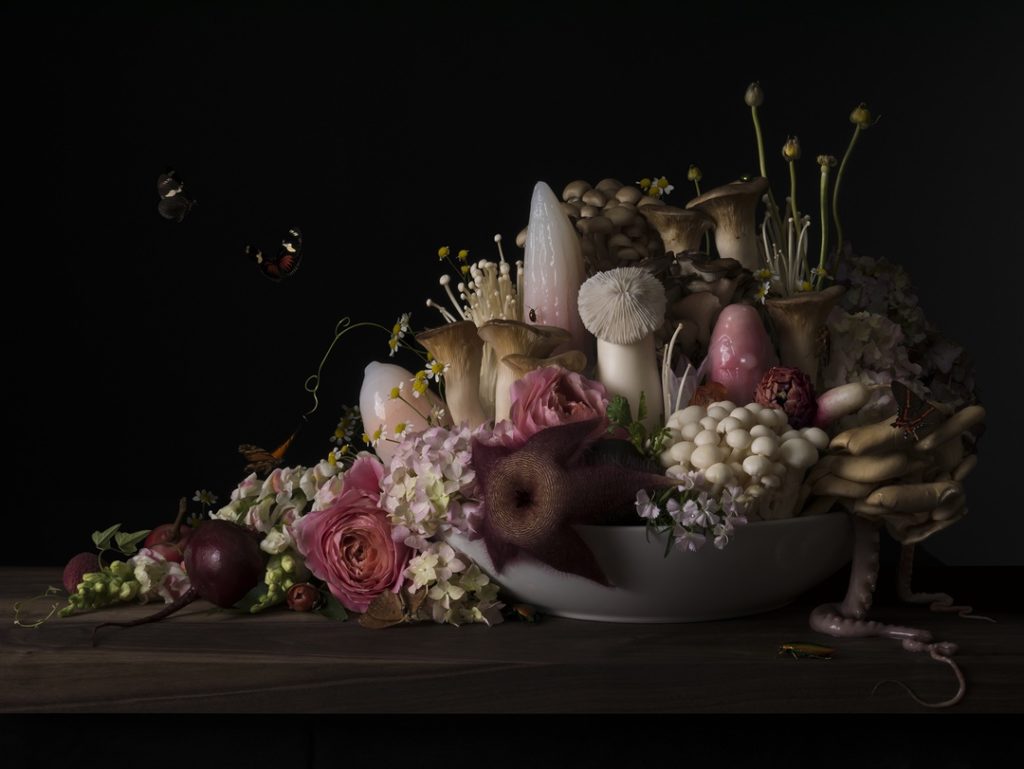 Likewise, Stilled Chimeras are glimpses into fantastical ecologies of human wonder and desire, where things are not always what they seem. In this world, botanical arrangements are hybrid creatures composed of plants, fungi, animals, insects, and dicklettes. Cast from roots and fruit, dicklettes are fleshy silicone sculptures that recall both animal and vegetal bodies. To humans, they seem phallic, clitoral, and teat-like, but I like to imagine that a carrot would look at them and see peculiar, pinkish carrots. Like a rhizome or mushroom fruiting body, dicklettes appear sporadically, growing in and out of the bouquets, comfortably nestled amongst the floral genitalia.
Ripe with color and texture, Stilled Chimeras stimulate the senses. As our eyes explore their bodies, they invite us to also imagine their scent—captivating and cacophonous, billowing with the heady odor of lilies, musky daffodils, and muted commercial roses. A floral top note shifting in and out with the wet earthiness of mushrooms, grassy metallic meat, and the strange sharp funk of radishes. Beneath it all, undertones of wilt and decay emerge as everything slowly collapses and liquefies into new states of matter.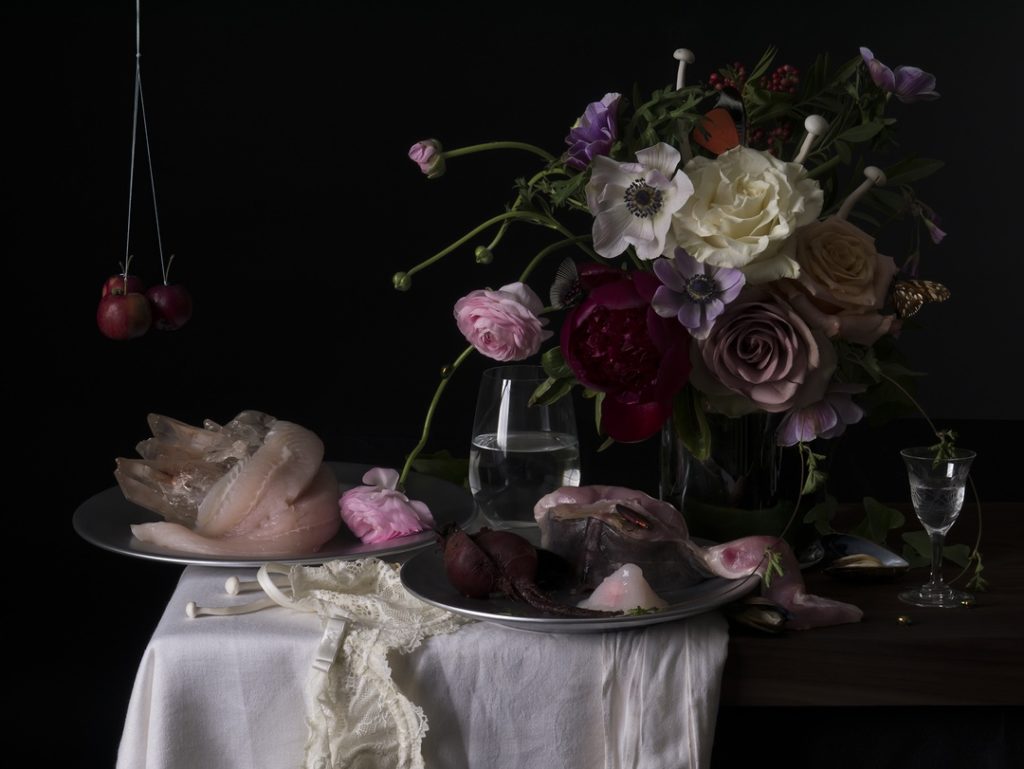 Scent penetrates us. As we breathe, odor molecules enter the nose, pass the threshold of the interior body, and bind to receptor proteins. The vast majority of aromatic molecules are made of oxygen, carbon, hydrogen, nitrogen, and sulfur. These are also the building blocks of life, the basic elements which comprise living organisms. As ecological beings our bodies are dynamic. We are always in a state of becoming. With every inhalation, with every new smell, we become a different assemblage of molecules. Though ephemeral, in this sense, olfaction creates chimeras.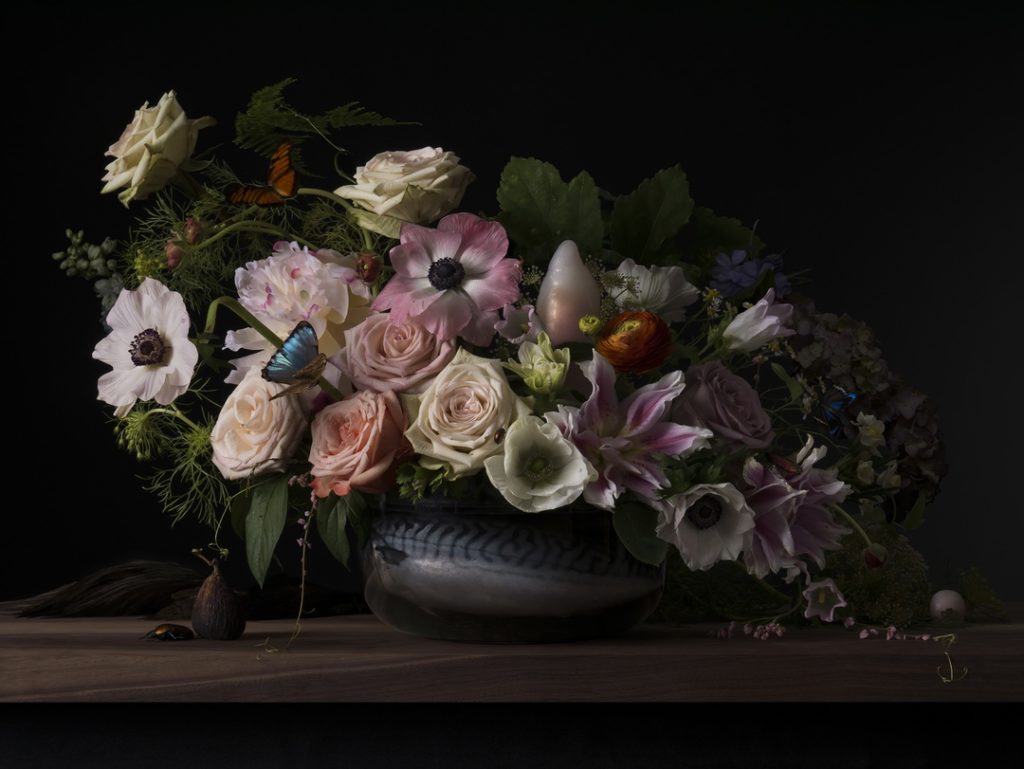 To be alive is to be imbued with the world. What might change when we see ourselves not only as individuals, but also as a community of organisms? How might we transform our relationship with the world if we reject the fantasy of the autonomous self and embrace the reality of radical collaboration? These are questions without concrete answers, and yet, we might find our own when melding into the multiplicity of a bouquet.
Margaux Crump (b.1989, USA, under a dark moon) is an interdisciplinary artist exploring the entanglements between ecology, spirituality, and power. Her work imagines an expanded web of relationships where we co-create alongside an endless array of different forms of consciousness: animals, plants, fungi, spirits, stones, light, and subatomic particles. She is currently investigating the phenomena of unseen worlds, from the microscopic to the parallel mythic realms that surround us.
Crump has exhibited across the United States, most notably at the Mildred Lane Kemper Art Museum, Saint Louis; The Corcoran School of the Arts and Design, Washington, DC; and Women and Their Work, Austin, TX. Her work has been featured on Artnet and The Museum of Non-Visible Art as well as in online publications Venison Magazine and The Rib. She holds a MFA in studio art from Washington University in St. Louis, MO, and a BA from Trinity University in San Antonio, TX. She is an avid gardener and a member of the Fairy Investigation Society. Crump is currently based in Houston, TX.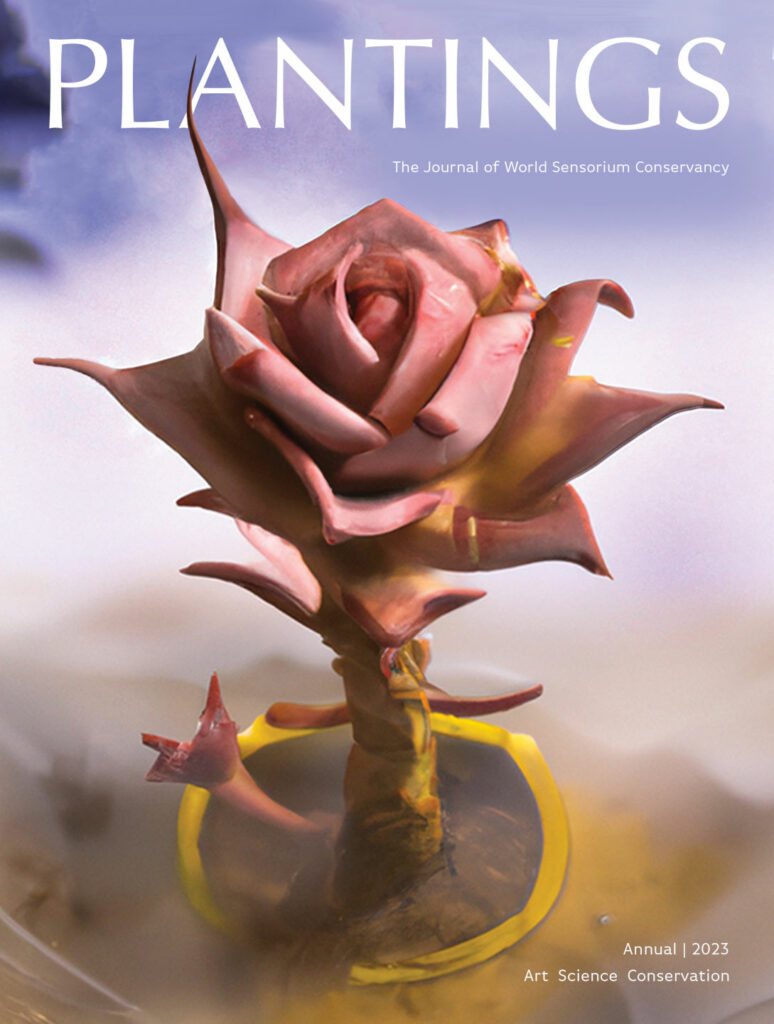 Plantings Print Annual 2023
Have you been looking forward to the 2023 Plantings print annual?
What do you like best about Plantings, the ideas and substance of the articles, the inspiring interviews, the beautiful photography, the creative charge to live sustainably? It's all available again in print for purchase in our store. The 2023 Plantings will available for shipping in April. Purchases in March are a special price of $20.00, after that it will be $22.00 shipped domestic.