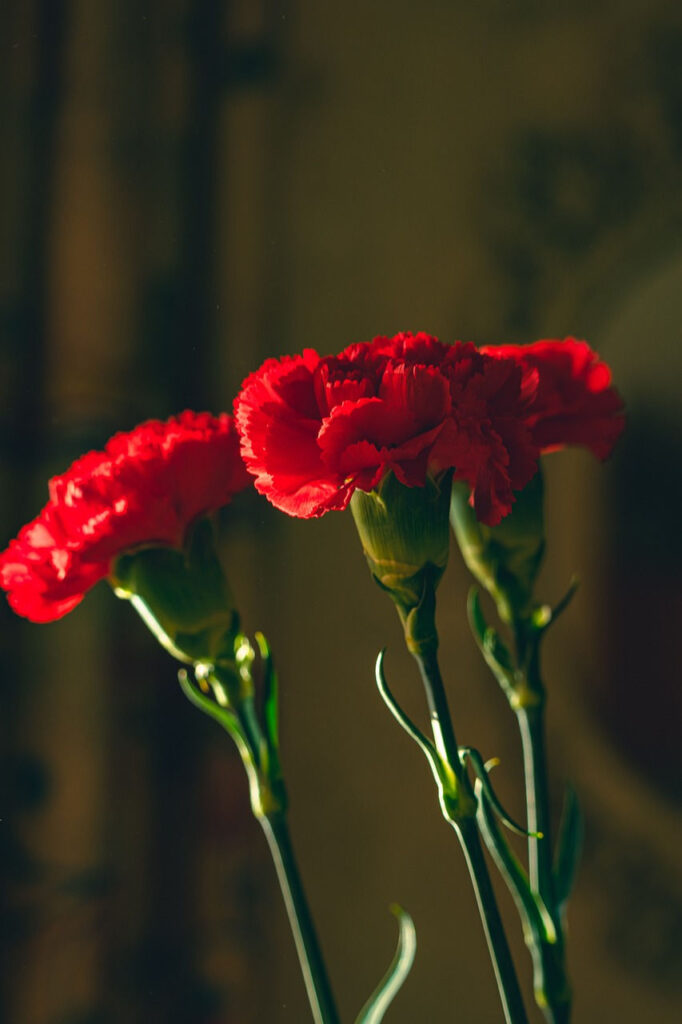 Spain
Carnation
Dianthus carophyllus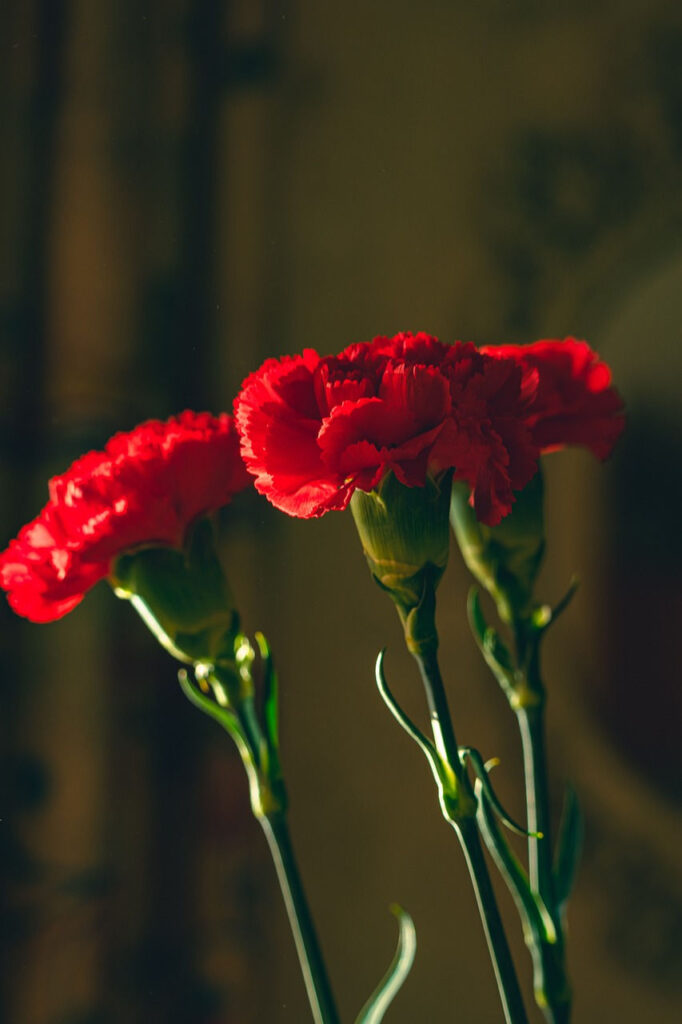 General Description/Cultural Significance
For centuries, the carnation (Dianthus carophyllus) was the floral symbol of Spain before becoming the country's national flower. Carnations grow in the wild and have been cultivated for well over 2,000 years now. The bright red flower, and its beautiful scent, are present at births, weddings, funerals, and other celebrations and is excitingly a part of bullfights, flamenco dancing, and parades,
The native plant, with edible flowers, grows in the red soil of the Mediterranean to the Pyrenees Mountains emitting a pleasingly sweet clove-like scent into the air. Studies in ethnobotany found that the flower is cited more in traditional Spanish folksongs than any other flora. Historically it has been seen primarily as a motif for masculine beauty.
Traditionally, carnations were seen as a herb containing both nutrients and medical phytochemicals. It has been dried and consumed as teas, infusions, and tonics to treat a variety of symptoms and disorders, including anxiety, pain, and infection. Carnations contain substances that have been shown to inhibit colon cancer and antioxidants that inhibit tumor growth. Extracts from carnations have been found to be anti-bacterial and anti-viral, including exhibiting anti-HIV capacities.
The flower's rich, sweet, and clove-like fragrance is dominated by eugenol, methyl salicylate, and benzoic acid.
Climate Change/Conservation Status
In July and August of 2018, Spain had a protracted heat wave in the triple digits with temperatures at 111 degrees and higher in Seville, and the heat hasn't stopped since with Greenpeace releasing a statement in July of 2023 saying the country gets 1.5 degrees warmer for every degree of global warming. Due to the rising temperatures, scientists are predicting that southern Spain will be reduced to a desert by the end of the century. Though the carnation thrives in well-drained alkaline soils, it still cannot survive in a desert. Thankfully, Spain is paving the way for Europe to become more environmentally friendly. To stop greenhouse gasses from heating up the country, and destroying its nature, Spain Is ending the use of coal as an energy source by 2025, five years earlier than first planned.
The carnation is heat and drought-tolerant but wilts in protracted extreme heat.
Alternate Names
Claveles

Sources
Agricultural Attache, Embassy of Spain
The Permanent Mission of Spain to the United Nations, Commercial Office of Spain, Office of the Consulate General, Information and Press Office, Embassy of Spain
Herrero, B., Cardano, M. (2015). Ethnobotany in the Folksongs of Castilla y Leon (Spain). Botanical Sciences. 93(2): 1-12.
https://www.theguardian.com/environment/2016/oct/27/climate-change-rate-to-turn-southern-spain-to-desert-by-2100-report-warns
https://www.euronews.com/green/2023/07/06/spain-is-getting-hotter-drier-and-more-flammable-due-to-climate-change-greenpeace-warns