A Voice for the Trees
By Mary Ellen Hannibal
Sign up for our monthly newsletter!
When Shyla Raghav talks, it's easy to listen. In fact, she's mesmerizing, and news outlets like CNN frequently call upon her to explain and comment on threats to our environment. As Vice President for Climate Change for the nonprofit Conservation International (CI), Raghav works tirelessly to push the needle on our urgent need to act. Raghav has been a key negotiator in United Nations climate talks and helped to forge the Paris agreement signed by 195 countries. She leads CI climate change work in 30 countries around the globe, emphasizing a "new environmentalism," based on maximizing nature's fundamental role in creating and sustaining a healthy Earth.
You've helped shape the conversation about climate. Where are we now?
In the beginning the prevalent narrative was "is the science to be believed?" Other countries moved beyond the questioning of scientific fact earlier than we did. There's been an active effort in this country perpetrated by a number of think tanks funded by fossil fuels and with vested interests that stand to be disadvantaged by decarbonization. They diverted attention from scientific fact and delayed necessary conversation on action.
What are the biggest challenges you face in communicating about climate change?
The hardest thing is to motivate action while recognizing there is uncertainty. It's also hard to keep optimistic and hopeful with the dire and concerning science. If individuals can do one thing, it's to talk about climate change more. This will help ensure it is a voting issue and that our leaders take it seriously. It will also help unleash creativity and ingenuity around solutions.
Climate change is also difficult to confront in terms of human cognitive behavior. We're conditioned to act for our short-term benefit. Motivated by income and livelihood, it can seem counterintuitive to focus on the long term. Addressing climate change means making upfront investments for a benefit to be accrued in the future. It quite often means preventing a harm rather than creating value or growth. You can see the results of this mindset—today we are paying for damages from disasters rather than seeing that preventing them would mitigate those damages altogether.
But this is changing. Climate change impacts have become immediate, which is compelling us to become immediate also. We're evolving to ask how science can help us use limited resources and to decarbonize. I see people more concerned with how we are going to create solutions.
Can you describe your work?
Conservation International works to preserve and protect nature for the well-being of humanity. For too long people saw the environment and our own future as two separate things. CI is built around a deep understanding that people need nature to survive and to thrive. We use sound science to work with local communities and governments to create incentives and policies to support nature.
For example, CI established the first debt-for-nature swap in the world. In exchange for forgiving their national debt, the country of Bolivia protected nearly 4 million acres of habitat. We've utilized innovative financial mechanisms and payments for ecosystem services. To stop encroachment into forests, local communities receive payments or benefits like schools, or training for farmers. We try to create long-term change while protecting the rights of people.
Beyond simply advocating for the intrinsic value of nature, we help articulate its economic value—quantifying the benefits of water filtration, storm prevention, and pollination. If policy makers could better understand nature's monetary value they would likely protect it rather than capitulating to new mines or dams.
What is your day-to-day like?
I spend a lot of time in meetings, internally, and with external partners, whiteboarding and looking at challenges. Cross-pollinating ideas is so important. A key part of my job is to facilitate free thinking in open spaces with people who think differently. I travel and communicate with diverse audiences—I constantly like to push myself to see how climate change is affecting people on a local level and to look at more effective ways of deploying solutions.
Do you have advice about how to approach climate change with varied audiences? Do you have to simplify the science?
I don't simplify per se, but I do recommend tailoring the message to address the main motivation or interests of your audience. Focusing on local impacts is also an important way to communicate climate change as a global problem, but one that also affects people in a very personal way.
One of the major drivers of climate change is deforestation of the Amazon. CI recently embarked on a massive project to restore trees, engaging indigenous people to help and to benefit. Can you tell us about it?
I'm really excited about the project, which is the largest tropical reforestation project ever undertaken in Brazil. We are utilizing a new planting technique called muvuca. Well, it's new to people today, but muvuca mimics the way nature actually works and is based on a traditional seed dispersal technique. Seeds from more than 200 native species are spread over deforested land, and the seedlings compete for space. The hardiest thrive. It is much more effective than planting a single species sapling by sapling. Local communities are involved on every level. The project has kicked off and we're fundraising for it so we can reach the full goal of planting 30 million trees. It gives me great hope.
Where did your passion for the environment originate?
When I was quite young I saw Ferngully, an animated film about the impacts of deforestation. The girl at the heart of Ferngully is totally upended by the destruction of her forest home. I couldn't believe it—I couldn't imagine a world that condoned and even expected rampant destruction of the environment from which we get so much life-giving support. I developed a passion to help protect nature.
How would you define your career path?
I've known from the beginning that I would pursue a career deeply connected with our environment. When I started college, I pursued science to understand how ecology functions. Ultimately, I wanted to help design policy and communications tactics to help build broader community support for the environment, but first I knew I had to know how nature works. Applied ecology was a science degree—I took all the core science classes but then had an intentional focus on applying that to global challenges. I got a master's degree (from Yale) in environmental management, an interdisciplinary focus involving science and law, international relations, design, and architecture—looking at the world as a global system. I learned how to apply scientific knowledge to the classical decision-making that policy makers, corporate leaders, and investors grapple with daily.
Sometimes it seems there's a divide between people dealing with problems in their own backyard and academic science talking from an ivory tower. Have you dealt with that?
I was pretty thoughtful about the evolution of my career. I ensured I had on-the-ground field experience early on. Right after grad school I managed climate change adaptation projects in the Caribbean. That gave me more confidence and credibility in the environmental community. Without it I would have been providing theoretical rather than practical knowledge that comes from having lived and worked in a developing country. It gave me the self-confidence to be in spaces dominated by older white men. I perfected a voice that had merit and deserved to be part of their conversations. It was really important in my own personal development.
I don't work in a lab in a traditional scientific career, but I share my understanding of science in negotiations like those at the U.N. and in management projects on the ground. I help communicate, with respect and integrity, what the science is telling us about what is happening to our planet. And I give people information about what they can do.
Eighty percent of climate change refugees are women, and women are 14 times more likely to die in a climate-induced disaster. How does being a woman impact your work?
In the past five years we've seen many more women and minorities getting into environmental work. Younger women are instrumental in getting the next generation onboard as advocates for the environment. I've actually found a lot of support and encouragement in this direction.
Have you faced particular hurdles as a woman of color?
I was born in India, and lived in Australia before moving to Irvine, California when I was 6. While my accent was made fun of in India and Australia both, I felt there was no expectation of what it was to be a Californian. There was no mold for me to fit into. About half of Irvine was of Asian or Latin descent—being surrounded by diversity really helped me to feel like I belonged. It allowed me to see cultural diversity as an asset. I could shape my own identity and future, drawing on Indian culture and also on the independence accorded me in the United States. The combination helped me become a more effective practitioner of climate change and climate justice issues. Having an Indian background gave me a deeper understanding of the connection between human well-being (poverty) and the environment. It has been incredibly meaningful for me to be able to consider how development issues intersect with ecology and the environment.
One of the big impediments to saving nature is that we don't have full enough knowledge of where species are on a landscape, and when. Is CI helping with this?
CI is documenting our natural biodiversity using motion-activated camera traps in natural areas. This project utilizes local knowledge hand-in-hand with technology. We rely on local knowledge for many dimensions of the camera traps, from placing them to identifying species. We co-create solutions with local people at scale, utilizing indigenous knowledge, for example, of drought-tolerant seeds and planting seasons. We have so much to learn as we try to make our food systems more resilient. We have a project in Peru with a community of indigenous women—we are helping to digitize their knowledge of different seeds and other elements of the forest. The work is also helping to bridge a divide between younger women, mothers, and grandmothers of the community.
In the face of global political challenges, we can still work with local people and reverse negative trends through inspiration, hope, and practical solutions.
Mary Ellen Hannibal is the author of Citizen Scientist: Searching for Heroes and Hope in an Age of Extinction, the winner of Stanford's Knight-Risser Prize in Western Environmental Literature, and a Stanford media fellow.
This article was previously published in Nautilus, and was produced with the support of the Lyda Hill Philanthropies IF/THEN initiative and the American Geosciences Institute.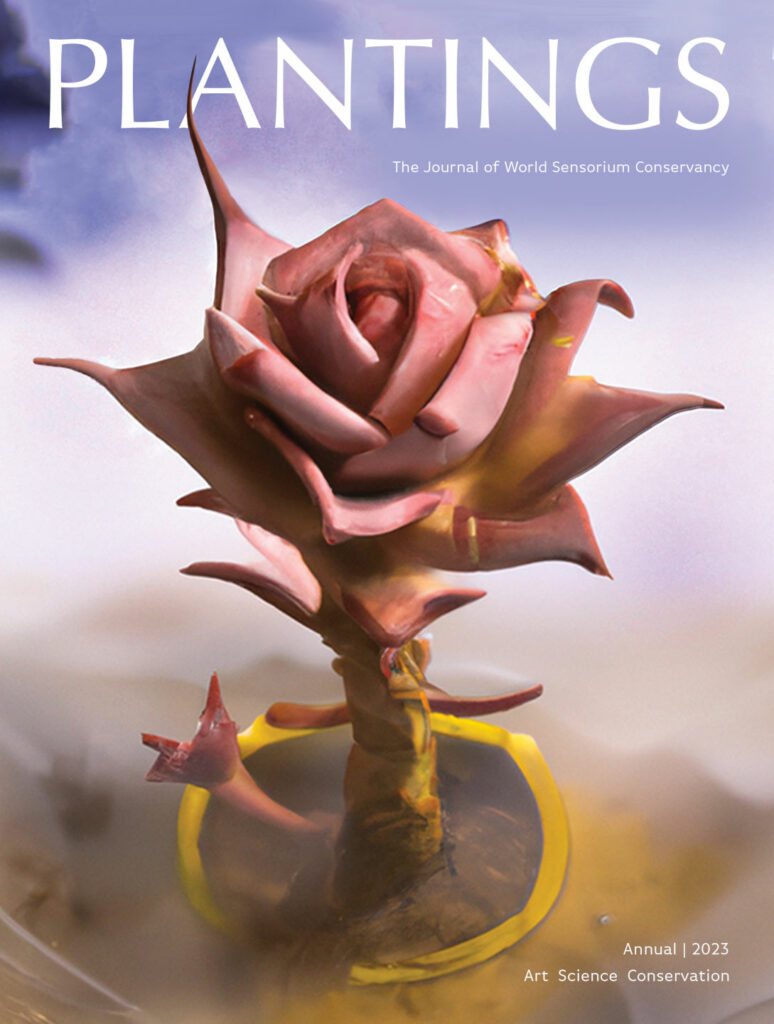 Plantings Print Annual 2023
Have you been looking forward to the 2023 Plantings print annual?
What do you like best about Plantings, the ideas and substance of the articles, the inspiring interviews, the beautiful photography, the creative charge to live sustainably? It's all available again in print for purchase in our store. The 2023 Plantings will available for shipping in April. Purchases in March are a special price of $20.00, after that it will be $22.00 shipped domestic.