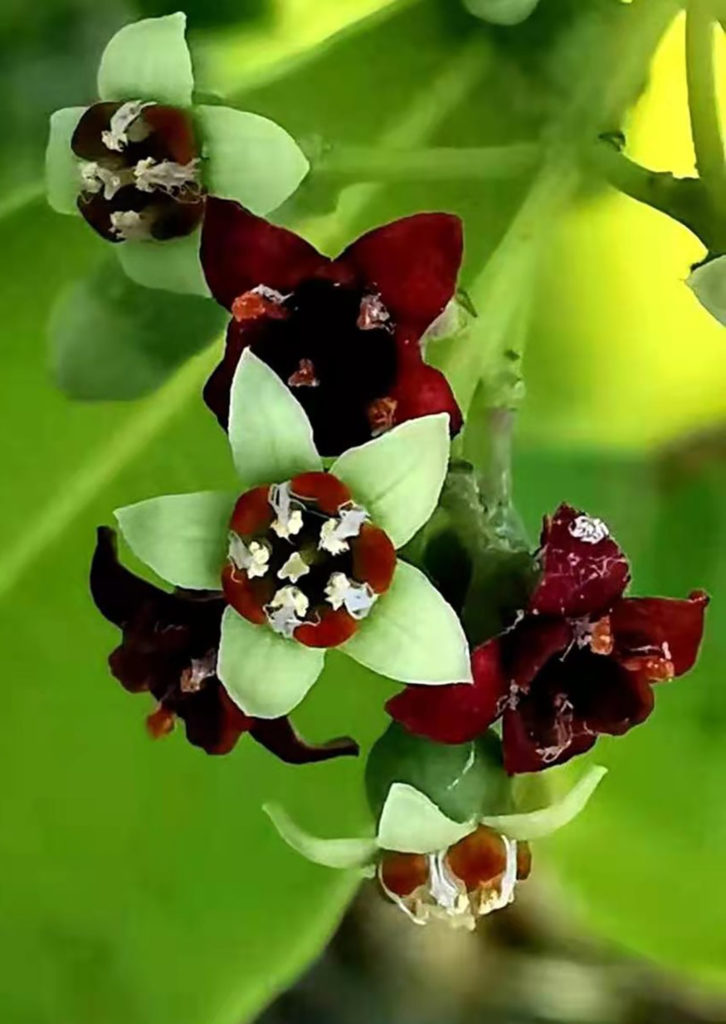 Indonesia
Sandalwood
Santalum album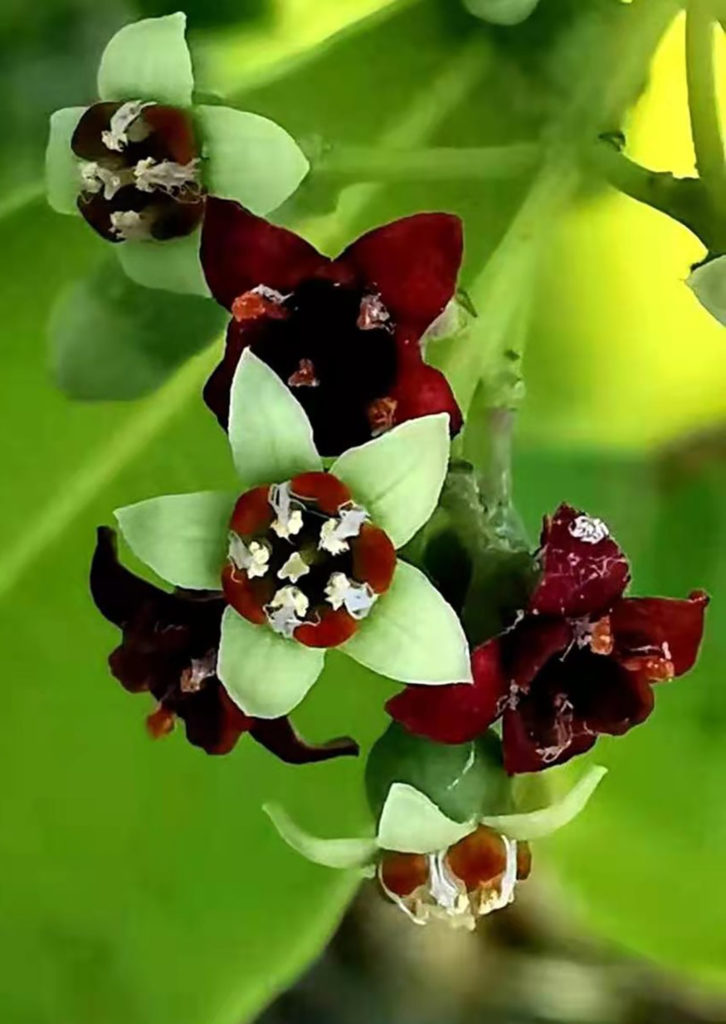 General Description / Cultural Significance
Sandalwood, Santalum album, is an extremely important wood to the people of Indonesia because of its aromatic qualities. For centuries, sandalwood has been an iconic scent to the people of the country, used every day by Hindus in their spiritual rituals and scenting most temples during worship. Sandalwood is a prized wood for making objects because its sweet and moving aroma stays with the wood for a very long time. Its extensive healing properties are broad and include compounds that endow the plant with antiseptic, antifungal, analgesic, astringent, anti-inflammatory, anti-spasmodic, disinfectant, diuretic and expectorant qualities.
Climate Change/Conservation Status
The problem is that the IUCN Red List of Threatened Species has listed Sandalwood as Vulnerable. For many decades, sandalwood has been battled in Indonesia, subject to destructive government policies during the Dutch occupation and, later, further endangered by habitat loss due to agriculture and cattle grazing. Today, the Indonesian government has instituted sustainable cultivation and growing practices that will hopefully save the remaining sandalwood tree forests and restore their abundance. However, planting and regrowth is slow and the effects of climate change and natural disasters are increasing.
Over the last couple of years, Java, Bali, Sualwesi and Lombok have experienced earthquakes, volcanic eruptions and tsunamis. The northern coast of Jakarta has been sinking on an average of two inches a year, making it one of the most vulnerable cities in the world to rising sea levels. Jakarta was founded on the marshlands of the island of Java during the fourth century and is now part of a "mega city," with more than thirty million people. After conducting in depth studies on how to address protecting Jakarta, which is also the financial hub of Indonesia, the government has decided that the most strategic plan is to move the Indonesian capital to Borneo. Officials have made it clear that there is no intention of abandoning the city, which has some of the most polluted air on the planet, in terms of climate change preparation, but see Borneo as a much more advantageous location for the government. The plan is to begin moving to the new capital in 2024. Northern Jakarta is going to be underwater by 2050.
There is much unsettling data from Indonesia in terms of its contribution to greenhouse gases. Indonesia is now the world's fifth largest emitter of greenhouse gases due to the destruction of its forests and peatlands, which, in turn, has also taken the habitat of thousands of plant and animal species. In 2021, Indonesia the world's eighth largest greenhouse gas emitter, updated its national climate commitment to transition to a zero-carbon economy by 2060 or sooner. The peat forests of Sumatra and Borneo have been particularly decimated by fire. In 2015, the air quality was so compromised by peatland fires that it is thought to have caused 100,000 people to die prematurely.
As sandalwood is threatened with extinction in Indonesia, both individuals and governments are working for specific strategies for conservation using genetics and pollination systems to develop specific conservation strategies.
Alternate Names
Chandal
Chandan
Cendana
East Indian sandalwood


Indian sandalwood
Peetchandan
Sandal
Sandal tree
Sources
Consul of Information, Consulate of the Republic of Indonesia, Original Research for World Sensorium, Published on World Sensorium Original Website.

Engler, A. "This Ayurvedic Ingredient Is About to go Extinct—Here's Why." MindBodyGreen 2019. https://www.mindbodygreen.com/articles/this-super-common-ingredient-in-skin-care-is-about-to-go-extinct-heres-why.

"Forests and Landscapes in Indonesia," World Resources Institute 2019. https://www.wri.org/our-work/project/forests-and-landscapes-indonesia.

"Jakarta, the fastest-sinking city in the world." BBC News August 13, 2018. https://www.bbc.com/news/world-asia-44636934.

Nagdeve, M. "15 Amazing Benefits of Sandalwood Essential Oil," Organic Facts, 2019. https://www.organicfacts.net/health-benefits/essential-oils/sandalwood-essential-oil.html.

Paddock, R. and M. Suhartono. "Indonesia's Capital is Sinking, Polluted and Crowded. Its Leader Wants to Build a New One." New York Times, 2019. https://www.nytimes.com/2019/08/26/world/asia/indonesia-capital-jakarta-borneo.html?searchResultPosition=1.

Pierre-Louis, K. "The Amazon, Siberia, Indonesia: A World of Fire." New York Times, 2019. https://www.nytimes.com/2019/08/28/climate/fire-amazon-africa-siberia-worldwide.html

"Sandalwood in Indonesia Threatened to Extinction." Universitas Gadjah Mada, October 20, 2017. https://www.ugm.ac.id/en/news/14977-sandalwood-in-indonesia-threatened-to-extinction.

"Santalum album," Asian Regional Workshop (Conservation & Sustainable Management of Trees, Viet Nam) August 1996. The IUCN Red List of Threatened Species 1998. http://dx.doi.org/10.2305/IUCN.UK.1998.RLTS.T31852A9665066.en

Santalum album (Santalaceae), Dr. Duke's Phytochemical and Ethnobotanical Databases, 2019. https://phytochem.nal.usda.gov/phytochem/plants/show/1762?qlookup=Santalum+album&offset=0&max=20&et=#act-47825-close.

Sudibjo, R."Is Indonesian Sandalwood in the Process of Extinction?" Indonesia Corners 2011. http://indonesiacorners.blogspot.com/2011/06/indonesian-sandalwood-species-in.html

"Sumba deciduous forests."Terrestrial Ecoregions, World Wildlife Fund.
Indonesia Submits New 2030 Climate Targets and First Long-Term Climate Strategy, World resource institute, July 23, 2021, https://www.wri.org/news/statement-indonesia-submits-new-2030-climate-targets-and-first-long-term-climate-strategy